Sarah Holl's Art Students –
In Their Own Words
by Nicola Burnell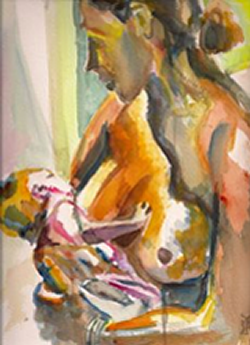 Mother and Child, by Karen Ryder
Artist Karen Ryder admits to having a "sketching habit" that once satisfied her constant desire to capture people both resting and in action. But, in 2008, she decided sketching wasn't enough anymore and looked for a local figure class that would fit into her schedule outside of office hours.
She met Sarah Holl at an open studio event on Pearl Street, in Hyannis, and found her new art teacher. "I was both excited and nervous on my first night. The last time I'd been in a figure class was back in my college days. Sarah made me feel welcome and comfortable. The class was a mix of all different kinds of people."
Karen soon realized the skills she'd developed through her constant sketching helped her get back into the swing of figure drawing. "It was great to draw bigger than I could on a sketch pad again!"
Sarah recognized that Karen was familiar with drawing the figure and encouraged her to see how far her favored medium of watercolor could take her. "For years, my sketching was done outside of a studio, often with watercolor pencils," Karen explains. "Watercolors force me to make quick decisions that I need to work with. I feel this process leads to a freshness in my work, and the ability to express mood, feeling and movement."
The confidence that Sarah instills in her students is crucial to helping them take risks and move into new areas of art. Sarah's class led Karen to try different mediums. "It's really fun to experiment in a variety of mediums. I'm pushing myself to try different styles and each one comes with a unique set of challenges."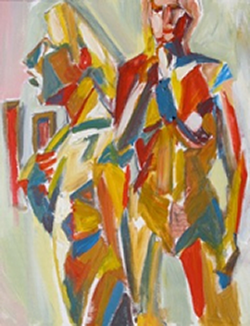 Cubist Iryna, by Karen Ryder
She recently experimented with a cubist-inspired style in her representation of the figure. "My next goal is to push myself beyond "just" representing the figure. I told my classmates that I feel confident in my ability to record, but now I want to really make art – to say something and tell stories beyond the story that the model alone tells me."
Karen has participated in various group shows at the Guyer Barn and was selected to have a solo exhibit at the Barn this past summer.
Her work was part of the "Hands" exhibit at the Cotuit Center for the Arts through Nov. 2 and her watercolor painting "What part of no don't you understand?" is on display at the Lore Degenstien Gallery at Susquehanna University, in Pennsylvania, for their juried figurative exhibit Oct. 30 - Dec. 17.
Since taking Sarah's classes Karen has increased her production outside of class. "I've developed a significant body of work and I'm now seeking opportunities with galleries interested in representing my work." Her work may be viewed at her online gallery .