When my husband of twenty-one years was going through open heart surgery and trying to recover, Cindy and Pat, my friends from church, came to clean my house and lend moral support. They also shared with me Cindy's recipe for Horseradish Dip and Pat's great salad dressing made with apricot preserves and Gorgonzola.
I think of Emily, my stepmother, whom I loved dearly, and the directions for Broccoli Soufflé and Red Velvet Cake that she shared with me, each with a story of its own.
I found my grandmother's White Bread and Fruit Cake recipes written in her own handwriting on sheets of onionskin typewriter paper. Her white bread made the whole apartment building smell good. I have to laugh when I think about her Fruit Cake though.
She made it religiously every single Christmas that I can remember. She had a large enamel pot that she used only for fruitcake and then she spent a small fortune on the ingredients and even bought that one annual bottle of brandy and how she coerced my uncle into buying it for her since she wouldn't set foot in a liquor store.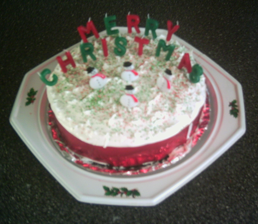 The cake that nobody ate...
She worked like a stevedore for days and made dozens of fruitcakes each year. And I have yet to meet one person who liked fruitcake. I hope they ate it or gave it to someone who did. No one ever had the courage to tell her.
My grandmother's recipes were so good she sold many of them to Woman's Day Magazine when they published their twelve volume set back in the sixties. She's been gone a long time now but I feel closer to her when I open those brittle sheets in my recipe box and read her directions once again.
I feel the same about her sister, my aunt and godmother Clara, who hated to cook, but who was a very good one. She never had a lot of money and had to make her food budget stretch like silly putty, but she made some very tasty and nourishing meals out of practically nothing. Thankfully, she wrote down those recipes for me before she passed away, especially the ones for her Pork Chop Spaghetti Sauce and Spanish Rice.
My mother didn't cook very often because she worked all the time. We lived with my grandmother and she for the most part did the cooking. But when my mother did cook, the resulting dish was delicious. She wasn't afraid to try Lobster Thermador or Oxtail Ragout, and her scrambled eggs were the best.
She's gone too now, very prematurely, but I have her recipe cards written in her very beautiful and distinctive handwriting. Some of them she jotted down so quickly for me that she lapsed into Pitman Shorthand to finish them. I always have to brush up a bit to decipher them. I treasure those cards.
So I'm glad we shared recipes, all of us. Some of us are still here and some are gone, but I get a warm feeling when I read those recipes, written on typewriter paper, index cards, the backs of envelopes and deposit slips. In a way, we're still sharing.