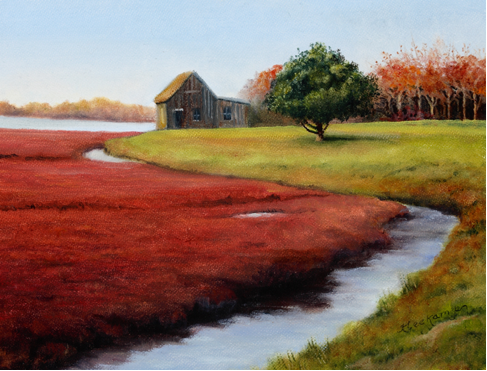 Ready for Harvest, Oil on Canvas, 2005, by Kathryn Kleekamp
Sharing Red
by Kim Baker
After Ready for Harvest, by Kathryn Kleekamp
Like a smiling red-headed child
swaying unbridled alongside a more cautious marsh,
a bog,
its many lavish sassamanash cranberries furring the landscape,
harvests the autumn air and light,
catches fire like so many fruity lightening bugs.
Wampanoag legend portends
the cranberry was carried from heaven
in the beak of a white dove
as a gift from the Great Spirit.
Maybe Her cranberry hair was full of one too many berries,
so she shared her crimson abundance lovingly
that Cape Cod might harvest this auspicious fruit,
this generosity,
this blood red energy of life passed on
from one tribe to another.