I took the plunge and started a business called Robin's Nest Interiors. Focusing on decorative and faux painting with a specialty in the painting of existing kitchen cabinetry allowed me to be creative while also supporting myself. The business was terrific, but something even more creative was still calling me.
During the evenings, I began experimenting with window art and incorporating found objects into each design.
Then, in the winter of 2008, while on a vacation trip to Key West, FL, I took a leap of faith and entered a local art show. That's when I realized that people really appreciated my "art". This inspired me on the journey into creating custom art pieces. The ocean had brought me home to my true calling. I now participate regularly in juried art shows on Cape Cod in the summer and in Key West in the winter.
Shop owner Suzie Nickerson of Pentimento in Chatham says, "Robin's work comes from her heart, and everything she does has a special touch. Her work embraces all the beautiful aspects of nature…the flow and the colors of sand and tide."
My line of art work continues to evolve. The name of my business is now Reflections by Robin and marries my love for decorative painting and for turning window art into more functional pieces, like mirrors and small pieces of furniture.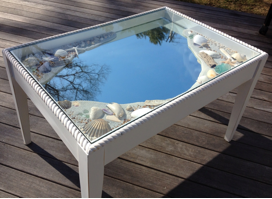 I will take a customer's found "treasures" such as shells from a vacation, or old jewelry from a mother's jewelry box, to create what I call a "Memory Windows."
People keep lots of things stowed away in boxes because, for sentimental reasons, they simply cannot part with them. I transform such treasures into a piece of art they can enjoy every day.
I also teach my technique to others in my studio in Bourne. Besides sharing my ideas and technique, I hope to be a source of inspiration for others. I want people to see that they, too, can create something new and wonderful - like what I do with my art and with my life!
To see more of Robin's work visit www.robinpierson.com
For upcoming shows visit her Calendar of Events
All images published courtesy of Robin Pierson.