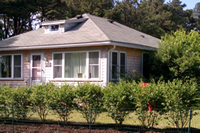 A Piece of Paper
How saying YES to an offer of help transforms a life and creates a home
by Michelle Pelletier
In the Fall of 2009 I was a participant in the Pathmakers Program at WE CAN. Mary Jaynes, the Program Director of WE CAN and leader of the Pathmakers Program, was opening one of our meetings with some housekeeping- community information, announcements, and check in with our group.
She held up an inconspicuous piece of paper and waved it above her head, "Does anyone want this?"
A piece of paper. 8.5 x 11. Yellow I think. Black text. Single sided. Life changing.
In January of 2009, everything was new. I had a newborn...was newly single...with a new business. My question, my mantra, my prayer became, "What do I do to honor the beauty in mine and my son's life? What do I do for financial bounty?"
I had recently committed to keeping my home on Cape Cod instead of moving to Santa Fe with family. My newborn and me...on the Cape, mid winter, new business.
I prayed every day, active prayers, while changing diapers, singing songs, washing dishes and breastfeeding. "I want my work to support my mothering," (I was attachment parenting). "I want the house to be warmer," (the old windows were drafty). "I want a sweet place for clients," (the front porch wasn't winterized but the sun was beautiful).
So I sat in my bungalow and flung my prayers to the Goddess as I tickled my son. As Winter turned into Summer, three answers came to mind.
The first answer: do more psychic readings. After 16 years of practicing massage, I needed my physical stamina to care for my son. And it was easy to do readings during nap time and while breastfeeding. My clients loved my son and Skype proved to be a simple way to connect with them and continue attachment parenting.
The second answer: become a part of WE CAN's Pathmakers Program. This informal and supportive gathering of women mentoring each other became integral to my wellbeing. Trips to the grocery store were a big deal at this point so meeting with my mentor was magic.
The third answer: devote my time to teaching psychic awareness. I was to step back onto a path I'd begun in 1999, teaching other sensitive souls psychic awareness. The internet was a perfect way to bring clients from all over the U.S. together into one sanctuary.
By the Fall of 2009 at my Pathmakers meeting, I was well on my way to a new life.