Riding the Last Gasp
by Patricia Monahan
The spring of 2013 found me adrift in a sea of transition, like many women for generations before me. I was approaching the end of my forties, single, with three children who had moved out of their teens and were no longer dependent on their mom. I had a good job, family and friends, but no real desire to grab on to. I had a large void to fill in an otherwise full life.
I received an email about a women's workshop called "From Surviving to Thriving" being offered by the non-profit organization WE CAN in Harwich Port, MA. They are a great organization that reaches out to women in all stages of life. Many who may feel they have nowhere to turn.
The workshop was being led by Life/Work Coach Maggie French, ACC. During one of the sessions we were talking about motivators. Dreams. Challenges. All things I so desperately needed.
One night she mentioned WE CAN's participation in a bike event called The Last Gasp, a 62 mile bike ride from Sandwich to Provincetown. It sounded like the push I needed. I could get outside, live a little healthier, and give back to the community at the same time.
September 14, 2014 will mark the 23rd Last Gasp Event, led by Bill Murphy, and has become a mainstay for his organization Cape Cod Charitable Fun Raisers. It kicks off this year with Summer Fest on July 11, at the Cape Cod Beer Brewery in Hyannis.
There are eight beneficiaries of the Last Gasp ride: The United Way, Cape Cod Young Professionals, Champ Homes, Kiwanis Clubs (Hyannis & Sandwich), Lyme Awareness of Cape Cod, Hospice of Cape Cod, Spaulding Rehabilitation of Cape Cod, and Silent Spring Institute. 100% of all donations raised by the participants go directly to these charities.
When I attended the We Can information session to learn more about the ride and familiarize myself with the WE CAN organization I walked in to a round table discussion of women of all backgrounds and abilities. Some had years of riding experience behind them while some were newbies, like me.
The one thing we all had in common was a desire to meet the challenge and help others in the process.
The WE CAN team is led by Andi Gesner, Executive Director of WE CAN. Andi, whose energy is contagious, leads by example. She is a great cheerleader. The team started out in 2011 riding as Team WE CAN/United Way.
While 100% of all monies raised by their riders go to United Way, WE CAN receives back 70% of those donations.
"These funds are so important to WE CAN because we can use them flexibly to support our programs, and equally important, we can get great visibility and put our empowerment mission to work in a unique way," says Andi. "Deciding to take on a challenge and doing so successfully, as you train all summer, is an exciting and empowering experience."
We met for our first group ride on a Wednesday night, at the start of the Cape Cod Rail Trail. The ride leaders checked our bikes, adjusted our helmets and gave us some helpful tips. We took our first ride, three miles up to the bike trail rotary and back. It was a long, slow, six miles, but we were all laughing and smiling when it was over.
Each time we met we rode a little further down the trail. After a month of riding, I decided it was time to commit. I officially registered for Team WE CAN/United Way.
As the weeks went on, and the miles increased, comfort became the next challenge. I took my bike, a Diamondback Hybrid, to get a tune up at Rail Trail Bike and Kayak, where I'd purchased it years before.
After talking to the owner and his bike technician about my goals I walked out of there with a used Diamondback Road bike and a promise from them to keep my bike tuned up before the big ride. I then when out and purchased a new seat, a few pairs of bike shorts and some riding gloves. I was beginning to look and feel like a real rider!
Shortly after getting the new bike we began doing 20+ mile rides on a regular basis, then 30. In July I finally hit the over 40 mile marker. I couldn't wait to get on the bike after work or on the weekends. Anytime I could ride, I would.
I dreaded the hills but quickly learned the workings of the grannie gear. The women and men (yes, we do have men on our team as well) who gathered each week for a common goal were all amazing. I even took part in some rides with the Cape Cod Cycling Club. This was another group of fantastic riders and teachers, many who also took part in the Last Gasp. It was nice to get out and meet people with common interests.
My next, and most important challenge, was the Fundraising campaign. To take part in the Last Gasp Ride, a $500 fundraising effort must be reached before the day of the event. I was having a hard time asking for donations. My sales pitch was weak. Was all my training to be for naught?
Then generous donations from family, friends and co-workers started coming in as the event got closer. I raised close to $700 and was ready to face the final challenge.
The day of the event was more powerful and emotional than I thought it would be. I drove from my home in Brewster down Route 6 to the Sandwich Marina on that early September morning. I was not alone. It seemed every car in my path was carrying a bike, a challenge, a promise. We were heading in the same direction for the same goal.
First I began to smile, and then I began to cry. Joy, acceptance, accomplishment, pride. I had accepted a challenge, five months prior, and I had followed through to the end. Who knew it was an uphill ride from Sandwich to Provincetown, in more ways than one?
Somewhere heading up a hill in Wellfleet, another feeling came over me. It was then that I named my bike Desire. I had found the desire I was looking for; to live life to the fullest.
Nearing the end of the ride I came across a rider from Habitat for Humanity, a great organization I owe my home to. She led me up the infamous Last Gasp hill in Truro and we then we headed for the finish line together.
Team WE CAN/United Way started off humbly in 2011 with 10 riders and $5,241 raised. The following year they tripled to 30 riders and raised $28,022. With injuries hindering riders in 2013, the Team still had about 25 riders and received $18,347 from the United Way for their share of the funds raised. Andi says they hope to see 20-30 riders this year and to raise over $20,000 for the organization.
I'd like to thank all who were on my first journey of the Last Gasp with me, from sponsors and trainers to sideline supporters who held signs along the route. I look forward to doing it again with you this year.
For more information on the Last Gas please visit http://capecodcharitablefunraisers.com/funraiser/lastgasp, where you can make a donation to the rider or charity of your choice.
Better yet, come along for the ride!
Photograph courtesy of Patricia Monahan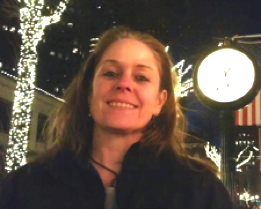 I have been playing with my pen since I was about twelve years old. Now newly entering the golden years I believe it is time to stop playing and start really having fun.
I am an Accounting Supervisor for ILG/Vacation Resorts International and work at their Hyannis, MA location. While working on financial reports, I am secretly adding up the components of my dream vacation.
I currently enjoy living in Brewster, MA with my three older children and make a vacation out of the beach whenever I can.
Bikram Yoga, nature walks and meditation are my great creativity motivators. I can be reached at beachdreamer11@gmail.com