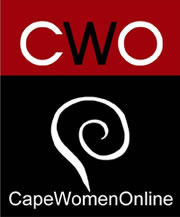 Cape
Women

Online - Where Cape Women Shine

Your local venue for the women of Cape Cod to share their ideas, experiences and resources while inspiring each other in their life's journey
Inspire

. Encourage .

Network

. Share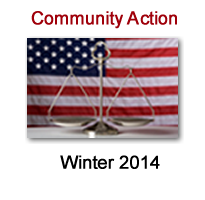 <
The Cape Crusader for Later-Life Ladies
A Personal Essay
by Geri Moore
The young and perky career counselor had me trapped in a job-related word cloud. Self-direction, LinkedIn, effective resume, transferable skills, networking. . . blah, blah, blah. I thought to my befuddled self, "You are killing me here, girl!"
The thirty-something prattled on clueless to my reality. This 63-year-old woman was laid off, terminated, let go, downsized, and she is pissed.
Include into the mix that of the 20 women (read that: no men) blind-sided by this company decision, 17 were 55+ year old employees, and we have now entered: outraged!
So soon after this corporate-kicked-to-the-curb experience, I am too hurt to be sitting in an over-crowded room hearing the pros & cons of functional vs chronological resume. And Geez Louise, receiving this message from a woman half my age is just too much at this crisis stage. A little sensitivity here, folks!
After 15 years as a counselor and advocate to the incarcerated, battered and homeless, I needed to leave the pain and brokenness. No more social services. It was time to pass the baton to the next generation of idealists. And with this "no more" thought, the long-forgotten, buried REBEL in me resurrected. She got up and out of the 'good girl' seat and left. As heads turned and bodies wiggled to witness this out-of-character exit, I flashed a megawatt smile and sashayed, diva style, out the door.
From a quiet hum to a not-so-quiet vocalization, I sang out the liberating lyrics of Shania Twain's, FEEL LIKE A WOMAN:
"Let's go, girls. Come on. I'm going out tonight, I'm feeling alright. Gonna let it all hang out. Wanna make some noise – really raise my voice. Yeah, I want scream and shout. No inhibitions. Make no conditions… I only wanna have a good time. The best thing about being a woman is the prerogative to have little fun…!"
While still releasing the endorphins of my restored maverick persona, I emailed my friends and wrote: "I need you gals. Now! You are my anti-depressants. Let's throw some Saturday night into this Tuesday afternoon. Pop a cork or two of Prosecco. Down a plate of mussels and just be silly, sassy and FUN!"
The 'anti-depressants' reference caught on and became the official name for this group of spunky 59-88 year old ladies-who-lunch. Not to be confused with a misery-loves-company support group and to maintain "class", society was added.
Every Thursday, this group of fabulous women gather for lunch - usually at a trendy Falmouth or Mashpee restaurant - to share and glow in our radiance and mischief! The gathering of luminous ladies could be six or twenty-six.
On this day, no Cape casual sweats or dungarees. Each woman, with her own unique and captivating style, glams up wearing jewel-colored clothing, sparkling bling jewelry (our signature) and a proud strut. When we sit together – vivacious and sometimes audacious - other diners are captivated by the zest and spiritedness of these fun-loving senior women.
Recently, as we tasted and toasted, a lady (probably in her 70's) said to the waitress, with a hint of envy, "I'll have what they are having." She and her companion gave a "you-go-girls" nod in our direction.
The waitress and other nearby diners got the humorous reference to the famous line from "When Harry Met Sally" and spontaneous laughter spread throughout the room.
The magnetism of The Anti-Depressants Society boosted everyone's serotonin and dopamine levels. Who needs pharmaceuticals when you have The Anti-Depressants Society?
That 'I'm-outta-here' moment, three years ago, when feisty Rebel Geri reappeared, along with a 1001 fantastic hours in The Anti-Depressants Society produced in me a new passion. Fun! Escapades! Adventures! Exploits! Risks! Escapes!
I took on a new identity as the Cape (not caped) Crusader for Later-Life Ladies, wearing a black baseball-style jacket scattered with multi-colored sequined words: WOW, FUN, AWESOME, CRAZY, PARTY, YIKES and COOL.
When I'm out and about my beloved Cape Cod you may be approached by me. Should I happen upon a 55+ woman who appears alone, perplexed or lifeless, I spring into action. My intention is to encourage you to get some umph! Break out of a rut, add some pizzazz, connect with the gal who danced the night away, rediscover your rebel woman, and be stylin'.
While walking on Main Street, Hyannis, I witnessed the hostess of an el fresco restaurant continue to chat with a waiter, ignoring the "table for one" woman only a few feet away. I sought out the manager and tattled on the neglectful staff.
With charm, grace and chutzpah, I requested that the woman be given immediate service. Not being satisfied with the manager's prompt response, I asked that the much younger staff members personally apologize for their inattention and comp the woman a nice glass of wine too.
Another time, I chatted with a gal while waiting in line at Starbucks. Her attire was as grey as her mood; the only streak of color being her blood-shot red crying eyes. Over chai tea, she confided she was disseminated by her husband of 30 years who had asked for a divorce.
Hearing of regrets and roads not taken, I challenged her to do one thing - with me as her coach – that she had always wanted for herself. A conservative dresser, she said she fantasized about wearing a sexy red dress, complete with stiletto heels, and having a dazzling makeover.
And so it was. With the help of my many hours of watching What Not To Wear, she received the peppery red-hot dress and a dazzling makeover.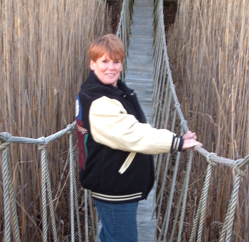 Photograph by Bill Wood
Geri Moore, a semi-retired cognitive behavioral therapist, counselor now plans activities and adventures for Later-Life Ladies.
Geri is the humor/inspiration columnist for CapeCodSeniors.org
At 65, Geri resurrected her Rebel Woman and resuscitated the Sassy Scribbler. She is writing a book entitled A Red Head's Revenge: Back from Hell and Living Well.
Geri Moore can be reached at 508-364-5815 or by email GeriMoore@aol.com
To make the fantasy complete, I went with her (positioned a few tables over) while she had her first-time-ever experience of sitting alone at a bar, flirting with the bartender and sipping a Cosmo. Her words: rejuvenated, frisky and strong!
There are other examples of ladies I've encountered who have opened up to the exhilaration of stepping out and up to adventures not lived, risks not taken and hopes not fulfilled. Those are for another time.
My wish for every later-life lady out there, who may be feeling a little blue, lost, or lifeless, is that you find your own Anti-Depressants Society and Rebel Woman within.
If you long to incite an internal riot, rouse up the unconventional, or live the Shania Twain anthem "Let's go, girls", then give The Cape Crusader for Later-Life Ladies a shout!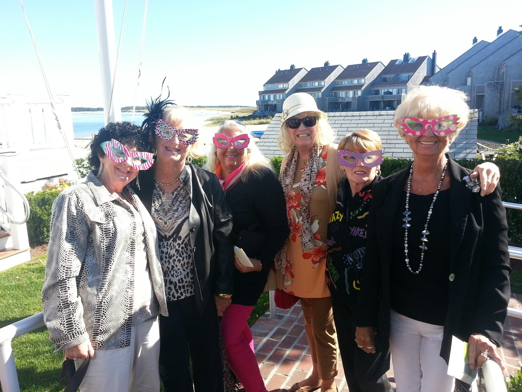 Members of The Anti-Depressants Society. Photograph by Loretta (Lolo) Haugen