Embracing The Contemporary: "ALL ABOUT SEVEN"
by Janet Murphy Robertson
ALL ABOUT SEVEN is a playground for the imagination. If ever there was a kid in you who wanted to explore different visions of reality, here is your opportunity.
Let go of any preconception of what you thought art "should" be. This large exhibition of contemporary art of Cape Cod will debut at the Cape Cod Museum of Art, Dennis, MA, on February 14, running through March 31, 2014.
In the words of the museum's Curator Michael Giaquinto, "A wave of artistic energy has swept from one end of the Cape to the other, and will crest at the museum during Women's History Month, 2014."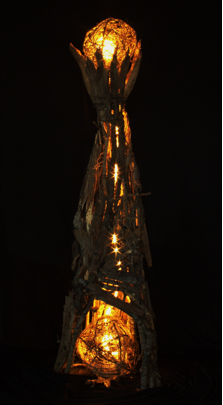 Freeing the Light, Sculpture, Tessa D'Agostino
The exhibit of 49 Cape Cod women ranges in media from painting, printmaking, and sculpture to mixed media, glass, fiber, and conceptual art. Reflecting one of the several senses of "seven" embodied in the show, Guest Curator Shawn Nelson Dahlstrom organized the participants into seven groups with seven artists in each.
In Dahlstrom's vision, "SEVEN" is far more than an organizational element. It is also an over-arching theme and a driver for intense, and often daring, collaboration, as each group has explored the artistic possibilities of such diverse "sevens": Seven Deadly Sins; Seven Sisters; Spectrum; Intentions; Seventh Generation; Elements; and Formal 7.
Each group or "pod" of artists was challenged by the innovative curator to create entirely new work and, where possible, to push beyond comfortable borders of media and subject matter. Dahlstrom conceives of the gallery itself as a large-scale piece of conceptual art inspired by the myriad facets of a single word/number.
Groundbreaking projects entail risk and Dahlstrom realized this from the outset. "I wondered how each of the seven groups - comprising women of different ages, from all over the Cape, working in a variety of media, each following an individual pilgrimage - would be able to incorporate its unique path into a larger vision."
Her bold venture paid off. "Not only did the collaborating artists seize the vision. They also created a full plate of delectable fruits showcasing the wealth of the arts on the Cape."
One of the catalysts for "ALL ABOUT SEVEN" evolved from discussions at the weekly meetings of "Morning Muse".
"Recognizing that artists tend to work alone and might benefit from a forum to talk about art - personally, philosophically, or mechanically - I started a weekly discussion group," explains Dahlstrom.
Morning Muse meets weekly for discussion, field trips, or "play dates" in which artists share their insights and techniques. One of the topics that arose through Morning Muse was the great concentration of artists on the Cape - from nationally known professionals to Sunday painters.