Years ago, I promised my sons that we would see the Grand Canyon before they graduated high school. It was one of those "some day" ideas that often got lost among the endless "To Do" lists of daily life. Being a single mother, I didn't relish the thought of attempting this trip as the only adult, so I let the trip keep falling to the bottom of the list.
This past summer, my sons and I found ourselves peering over the cliff edges of Bright Angel Point, on the North Rim of the Grand Canyon, into a fathomless, mysterious, ancient chasm below. Two of my sisters stood beside me. The Grand Canyon had been on their wish lists too.
Although we couldn't see it, we all knew the Colorado River was still carving its course through layers of multicolored rock that held historic details dating back over two billion years. The size, age and beauty of the canyon were breathtaking, and not just because we were struggling to breathe the extremely thin air.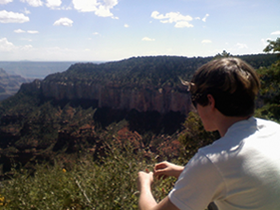 Steven Francis-Burnell listens to the voices of the Grand Canyon
The paved narrow trail that followed a steep ridge to the Bright Angel lookout point was not for the faint-of-heart, rising 8,148 feet above sea level. I tried not to acknowledge my peripheral vision as I walked forward, keeping my eyes firmly on the ground, just inches before my feet.
But my sons fooled around, as boys do, leaving the trail to climb boulders that were precariously balanced on one side of the narrow paths stretching out into the canyon's gaping abyss. I had heart attacks, as mothers do, when I imagined them hurtling to their deaths.
The only way to express my sense of terror that they could die if they lost their balance, was to leave the safety of the path and threaten to climb onto one of the protruding boulders myself.
It was my eldest son who caught both my arms and begged me not to risk my life. Relieved, I returned to the trail and said, "Now you know how I feel," as I marched passed him.
The Grand Canyon surprised me. The silence that floated in the air above us was louder than anything I've ever heard before. It told me to stop. To sit. To look and to listen.
It reminded me that life is a journey through many wonderful, treacherous, exciting moments, and that each second that passes is something to be felt as deeply as possible.
It asked me stop white-knuckle driving to work, to school, to appointments. It suggested that I slow down enough to smell the lavender growing in pots on my deck. It asked me to listen to the laughter of my sons playing x-box with their friends in their basement man-cave.
I hated the panic in my chest at the thought of losing my sons on that trail. But I loved the warmth of the knowledge that I got us there, to that incredible place, just as I'd promised.