The Good Earth: Bon Terra Nurseries in Brewster
by Lisa Markley
Clare Bergh became a farmer out of necessity.
As a 10-year-old growing up in Plainville, MA, she tired of the Minute Rice and canned vegetables that were staples at the dinner table. She decided to fulfill her craving for fresh produce by growing her own.
That year, without any formal training as a gardener, Bergh let her fingers run through the soil for the first time. With her father's help she started to grow her own vegetables on their 12-acre property, trial and error her rally cry.
Her initial youthful venture into gardening produced tomatoes, lettuce, beets, corn and even carrots for her pony. Bergh's father, a novice himself, provided as much help as possible as the pair diligently read seed packet labels and followed instructions.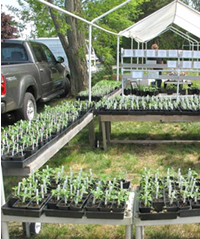 Clare's Tomato Plants for sale at the Orleans Farmer's Market.
Since 2001, Bergh has provided her loyal customers with their favorite produce as well as a few surprises at the Orleans Farmer's Market.

Whirlygigs and Garden Gnomes: Adventures in Community Gardening
by Katie O'Sullivan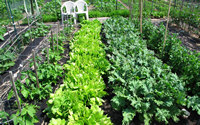 A plot at the Harwich Community Gardens
My husband and I have grown a home garden for many years, relishing the taste of heirloom tomatoes and hand-picked salad greens.
We discovered long ago that there are so many more interesting varieties of squash out there to be savored, beyond the traditional green zucchini and yellow summer squash found at the supermarket.
When we moved to Cape Cod, we tried for a few years to make do with container gardens in our small yard. We interspersed squash plants among the ornamental bushes. We planted blueberry bushes and raspberries along the back fence. But we missed the flavor of real tomatoes.
Then we heard about the Harwich Community Garden. For a modest fee paid to the town's Conservation Commission, residents can sign up to garden one or more of the available plots, although newcomers are limited to one plot in their first year. We were lucky enough to sign up before they sold out.
A "community garden" is by definition a single piece of land gardened collectively by a group of people.

The Importance of Getting Mud between Your Toes: The Thornton Burgess Society Celebrates a Centennial
by Mary Beers
From a childhood running wild in the woods and fields of Little Compton, Rhode Island and Elizabethtown, Kentucky, seeds were planted that grew into a passion for the natural world.
My past has led me to this sweet oasis on Cape Cod but my love of Thornton Burgess has kept me here.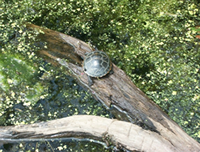 Painted Turtle, photograph by Abby Kelley, age 8
May 2010 arrived on Cape Cod with unusually warm days and thankfully cool nights.
May marked my 23rd year of employment for the Thornton W. Burgess Society, a small nature center nestled on Cape Cod.
It's been a year of reflection, once the initial shock of the sheer number of years wore off.
I have never been in one job so long in my life. My past jobs were all so radically different from my current position.
How did I ever go from shoe department clerk to telephone information operator to nun to teacher naturalist?

The Orleans Farmer's Market
Saturdays from
8:00 am – 12 Noon
May 15 through November 27
21 Old Colony Way, Orleans
(across the street from Capt Elmer's Restaurant)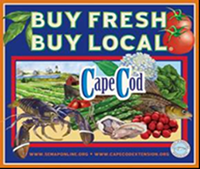 www.buyfreshbuylocalcapecod.org
Click here for News, Events and Farmers' Market Updates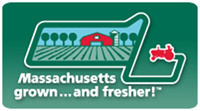 www.mass.gov/agr/massgrown/index.htm
Click here for the MassGrown Map to locate Massgrown farm products, specialty foods, and fun ag-tivities in your area!