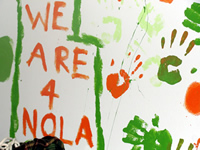 Rebuilding NOLA (New Orleans, Louisiana)
by Jane Schaller
Pastor Nicole Lamarche's nimble feet were ready to roam.
After years of embracing community outreach with funds raised through her Cotuit Federated Church projects, it was time to step outside of the comfort zone and tread alongside Jesus.
Along with two other United Church of Christ pastors – Reed Baer of West Parish, Barnstable and Fred Meade of North Falmouth Congregational Church, North Falmouth – Nicole planned a mission to New Orleans to help rebuild homes devastated by hurricane Katrina, in neighborhoods still struggling to recover five years later.
Rev. Meade was a pastor at a New Orleans church on August 29, 2005 when catastrophe hit. This trip was his first time back.

Helping People Help Themselves: Why Missie's Closet Needs You!
by Claudia Robinson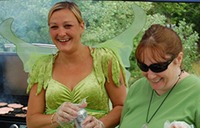 In a crisis, women rally with unconditional concern, support and whatever supplies they can get their hands on. We've been doing it for centuries.
In the wake of the recession, the resilient spirit of sisterhood is once again being called upon to help our neighbors and friends in need.
In 2009, I was employed as Administrative Assistant by Community Action Committee of Cape Cod and the Islands (CACCI) with funds taken from the $787 billion American Recovery and Reinvestment Act.
While my duties varied, my Director, Missie Carney-Getzie, made it clear that Missie's Closet, the agency's on-site emergency food and essentials pantry, was to be my priority.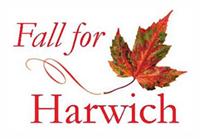 A month-long celebration throughout Harwich with fun activities and
events for all ages
September 9 to October 10
Click here for the
Fall Harwich Brochure.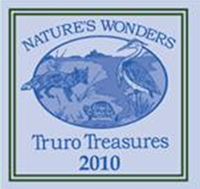 19th Annual Gala Weekend
September 17-19, 2010
Click here for the
Schedule of Events
Or visit www.trurotreasures.org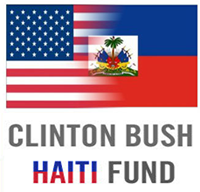 Visit our updated Help Haiti Page for artwork, photographs, poetry and thoughts written in support of the Haiti relief effort.
Also watch the Haiti Mon Amor video and find out how you can help Ellen LeBow's The Haiti Project.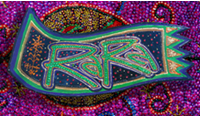 RaRa, 6 Commercial Street
Wellfleet, MA
(508) 349-3433
To learn more about the Women Artists of Matènwa go to www.artmatenwa.org
or visit them on Facebook