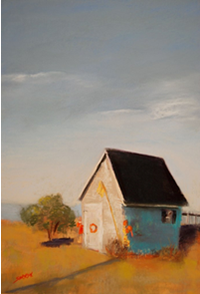 Beach Shack, by M'Lou Sorrin
The Richest of Tapestries: Between Sea and Sky, an Exibit by 21 in Truro
by Lauren Wolk
They call themselves 21 in Truro but not a single one lives there. At least not in the physical sense.
The week they all spend in Truro each year, painting and refreshing their relationships and themselves, makes it their home in a very real sense. The 21 are all women, all artists, all in love with color and light, but their differences are many.
Some paint en plein air, some in studios. Some prefer pastels, some oils, watercolors, or acrylics. Others are printmakers and weavers as well.
Their work ranges from abstract to realistic, impressionistic to expressionistic. From landscapes and seascapes, to portraits and abstracts.
But they are all connected to one another and to the place where they convene for perhaps the best week of their year.