Small Presses vs. the "Big Houses" – Something for Everybody
by Diana Rubino
Writing for a small press can be a stepping stone to a career leap – or it can be your entire career. Since no author can plan on a best-selling career with a big house, pitching to the small presses can be your ticket to publication.
The small independent publishers are much more willing to take chances on new writers and cultivate their talents. Sure, their bottom line is important, as it is to any for-profit business, but they don't have the time constraints the big houses have.
This gives their editors the luxury of taking more time to work with authors, and spend much more one-on-one time with them on technical details such as point of view, character consistency, and basic grammatical and style issues.
Small presses also accept unagented material, so authors can avoid the Catch-22 of not being able to land an agent because they've not yet established a track record.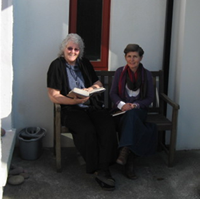 Jackie and Geraldine in the courtyard at Böll Cottage.
Awaiting My Muse: Part Two of an Artist Residency in Ireland
by Jackie M. Loring
2010 Residency, Heinrich Theodor Böll cottage, Achill Island, Co. Mayo, west coast of Ireland.
After my acceptance letter arrived from John McHugh, Boll Cottage Trustee, I called Geraldine Mills who I'd met in 2003 at a Provincetown Play Festival where her play was performed.
I'm a travel coward, so I proposed to her that I would provide her a place to meet her muse if she would consent to drive me in Ireland.

Book Review
by Pat Bertschy
Any Bitter Thing
A novel by Monica Wood, 2005
Any Bitter Thing is the story of a young girl, Lizzy, raised by her uncle, Father Mike Murphy, a Catholic priest.
Some stories are good, but some are so good that you want to live that life. Such was Lizzy's childhood with Father Mike.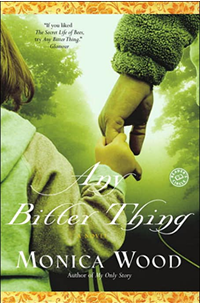 To read an excerpt from
Any Bitter Thing go to: www.monicawood.com/exabt.html


An anthology of poetry, fiction and memoir about Cape Cod. Available at bookstores or email GillianHDrake@aol.com