Leaving The Nest: What to know before going to College
by Nicole Cormier, RD, LDN
My favorite part of working with students that come to see me is helping them make a connection between nutrition and everyday life. In my practice, I've strived to develop the easiest approach possible to communicate basic nutrition to soon-to- be college students.
If students understand basic nutrition, they can achieve optimal health by managing blood sugars, energy levels, and hunger throughout the day. This article provides the key practices to know before leaving the nest.
Know the difference between natural carbohydrates and refined carbohydrates.
Carbohydrates are the main source of energy for our cells, body, and brain. However, the carbohydrates we really need to eat are vegetables, fruits, whole grains, and dairy that has naturally occurring sugars. Unfortunately, the carbs we run into most often are refined sugars.
So what's the big deal? Most people don't realize that when they choose refined sugars (such as white flour bagels, bread, pasta, muffins, cookies, pastries, candy, soda, juices, etc.), their blood sugars increase enough to get a quick fix, but then crash causing them to crave more carbs, feel tired, and increase calories consumed for the rest of the day.
Balance your calories with the fuel your body really wants.
The majority of calories consumed everyday – 95% – should come from lots of vegetables and fruits, protein, whole grains, and healthy fats. The remaining 5% leaves room for food that has less of a nutritional value and maybe some of that ADDED sugar.
Protein and Fiber combinations make it possible for us to physically feel full and experience satiety. They work together to slow our digestion and prevent our blood sugars from increasing and falling dramatically.
Learning to put these combinations together at each meal will help keep blood sugars at a balanced level, which will help with hunger. It will also prevent you from feeling cranky, sleepy, and starving.
Protein Powerhouses:
Animal – Fish, Shellfish, Chicken, Turkey, Eggs, Lean Pork, Lean Ham, Buffalo and Lean Red Meat
Plant – Natural Peanut butter, Nuts- almonds, walnuts, pecans, cashews, pistachios– Soy, Beans, Lentils, Hummus, Tofu, and Seeds
Dairy – Lowfat milk, cottage cheese, string cheese, yogurt, Greek yogurt
Fiber Fuel:
Whole Fruit – Avocado, Blueberries, Raspberries, Strawberries, Pears, Apples, Oranges, Bananas, Lemons, Tomatoes, Prunes, Apricots
Vegetables – Carrots, Celery, Broccoli, Cucumbers, Garlic, Summer Squash, Zucchini , Mushrooms, Kale, Spinach, Sweet Potatoes, Corn, Eggplant, Peppers
Whole Grains – Brown Rice, Whole Wheat Pasta, Oatmeal, High Fiber Cereal, Whole Wheat Bread, Quinoa
Break your fast and eat breakfast no matter what time you wake up for class.
I'm sure you've heard at least one person in your life tell you breakfast was the most important meal of the day. Your body needs that fuel in order to start burning calories (picture your roommate switching the light on that wakes you up).
So, FEAST or FAMINE…if you don't fuel up, your system won't know when the next time it will get food from the miscommunication you've created. Therefore, it will slow your metabolism and reduce the calories it decides to expend. That's tough love! So, let's just help out and break the fast from sleeping before class.
Cereal Checklist: We're aiming for high fiber, low sugar
More than 3 grams of fiber
Less than 6 grams of sugar
Leaving the nest for college comes with challenges as well as opportunities. If you're not equipped with natural cooking skills and balanced eating, the idea of having to learn basic cooking skills and eating in between classes can seem overwhelming.
However, being prepared before you head out can make a huge difference in your college experience. GOOD LUCK!
Tools for your dorm room/apartment:
Rice cooker
Microwave
Refrigerator
Fork, spoon and knife
Cutting board
Individual Blender
Electric tea pot
Mixing spoon
Microwavable Bowl
Ice cube tray
George Forman grill
Stock your Dorm Pantry:
Tuna packed in water
Whole Wheat pasta
Brown rice
Oat meal
Canned vegetables
Salsa
Canned fruit packed in water or its own juice (stay away from syrups)
All natural peanut butter
Almond butter
Marinara Sauce
Stewed Tomatoes
Whole Wheat Macaroni and Cheese
Nuts – almonds, pecans, walnuts, cashew, and pistachios (buy the unsalted)
Dried apricots
Whole grain crackers
100 Calorie Microwave Popcorn bags
High fiber cereal (>3g fiber)
Soups
Whey protein powder
Cinnamon
Garlic powder
Stevia sweetener
Agave nectar
Oils (olive, toasted sesame seed oil, and canola)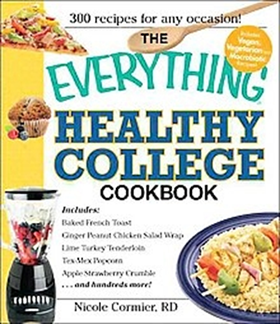 Available at bookstores & online
www.amazon.com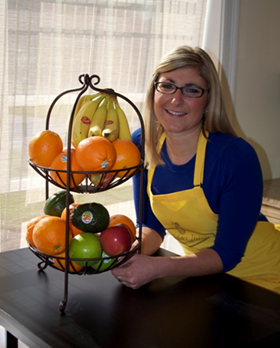 Nicole Cormier, RD, LDN is a registered dietitian and owner of the nutrition counseling company Delicious Living Nutrition.
She is certified in adult weight management from the Commission of Dietetic Registration, and the author of The Everything Healthy College Cookbook and co-author of The Everything Juicing Book.
Cormier earned her bachelor's of science degree in human nutrition from the University of Massachusetts in Amherst and completed her dietetic internship at Beth Israel Deaconess Medical Center in Boston.
She specializes in weight-loss, diabetes, high cholesterol, family health, gastrointestinal issues, food intolerances and allergies, pediatric nutrition, sports performance, balanced healthy eating and fatigue.
She offers a variety of services that include coming into your home for nutritional counseling. Individuals can also visit her office located at 29 Lewis Bay Rd. in Hyannis, across from Cape Cod Hospital.
Additional services include Workshops, Grocery Tours, Pantry Make-overs, BodyGem® Metabolism Tests, Personalized Cleanses, and Menu Consulting. She is available to speak at colleges, sports teams, wellness centers, small offices, fitness centers and corporations that are interested in providing employee wellness.
Email nicole@DeliciousLivingNutrition.com or call 508-813-9282 Visit her website and blog at: