Helping People Help Themselves: Why Missie's Closet Needs You!
by Claudia Robinson
In a crisis, women rally with unconditional concern, support and whatever supplies they can get their hands on. We've been doing it for centuries. In the wake of the recession, the resilient spirit of sisterhood is once again being called upon to help our neighbors and friends in need.
In 2009, I was employed as Administrative Assistant by Community Action Committee of Cape Cod and the Islands (CACCI) with funds taken from the $787 billion American Recovery and Reinvestment Act.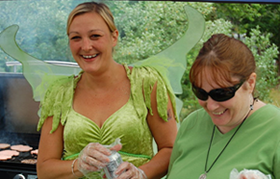 Missie Carney-Getzie & CACCI Client Advocate Jen Pike at the Sunday Funday
While my duties varied, my Director, Missie Carney-Getzie, made it clear that Missie's Closet, the agency's on-site emergency food and essentials pantry, was to be my priority.
Established in 2007, in an effort to provide one stop care for clients in need, Missie's Closet quickly became an essential part of what CACCI is about, servicing over 30 clients or more a month. Over time, however, Missie became overburdened as the need for services grew. The Closet began to languish.
Missie's Closet immediately became my pet project. What had initially been a one room operation quickly became two. I created fliers and business cards exclusive to the Closet and networked with other non-profit agencies. Maggie Tyson, the Manager of CapeAbilities' Thrift Store 'adopted' the Closet, donating items they couldn't sell as well as sending new donors our way.
My co-worker and 'partner in crime' Richard and I suddenly found ourselves renting UHauls to pick up donations; our shelves in the Closet, as well as our furniture storage unit were full. All examples of overwhelming generosity as well as proof positive that passion and dedication can move mountains.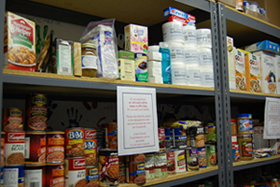 Shelves are stacked high with generous donations but volunteers are needed to keep the closet organized and restocked.
Donors eager to help a worthy cause organized food drives for our pantry. We had to buy an extra freezer for the all the food. Missie's Closet was finally on the map!
I handed out more cards, shook hands, gave tours and shared statistics, exposed the chronic nature of homelessness and hunger that existed right here in our own backyard. Everyone suddenly wanted to know how to help.