The Richest of Tapestries: Between Sea and Sky, an Exibit by 21 in Truro
by Lauren Wolk
They call themselves 21 in Truro but not a single one lives there. At least not in the physical sense.
The week they all spend in Truro each year, painting and refreshing their relationships and themselves, makes it their home in a very real sense. The 21 are all women, all artists, all in love with color and light, but their differences are many.
Some paint en plein air, some in studios. Some prefer pastels, some oils, watercolors, or acrylics. Others are printmakers and weavers as well. Their work ranges from abstract to realistic, impressionistic to expressionistic. From landscapes and seascapes, to portraits and abstracts. But they are all connected to one another and to the place where they convene for perhaps the best week of their year.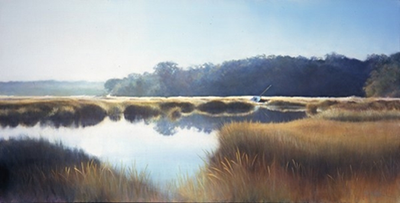 Moored on the Marsh, acrylic, Barbara Wyland
"If I were to compare the week in Truro to a tapestry," says artist Barbara Wylan, "I'd describe it as rich and intricate, and surely a work-in-progress. Its threads include all the gifts we've frequently noted: camaraderie, friendship, love, support, inspiration, growth, adventure, rest, restoration, retreat, empowerment, challenge, wonder, and, oh yes, a setting of natural beauty wondrous beyond description."
But there's something more to the retreat than a collection of nameable elements. These women know they are blessed with tradition and each other, but they are most protective of the brew they together concoct with no recipe except a single admonition: Don't waste a moment of this incredible opportunity.
"Nature changing, the wind, the tide. I can't stand it, it's just so wonderful," says painter and print maker Joyce Kavorskas. "And it's all there. All you have to do is discover it."
Jane Eccles, a plein air landscape artist long accustomed to the kind of work she does during the retreat, still finds fresh experiences waiting for her in Truro. "I am both challenged and encouraged by my fellow artists," she says. "Their opinions matter to me."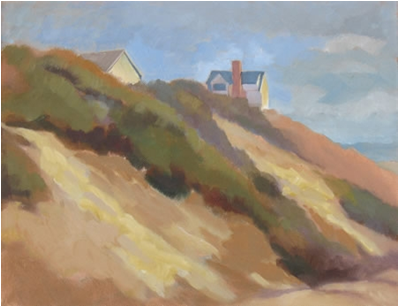 Truro Hillside Cottage, oil on canvas, by Jane Eccles.
And well they should, since another characteristic common to all twenty-one is a very high level of professionalism and skill. These are, to a woman, outstanding artists.
Even those members who prefer to work in a studio, in solitude, and who describe themselves as loners regard the week together as a rare opportunity to challenge themselves, savor new experiences, and strengthen bonds with others for whom art is at the very essence of who they are and how they live.
"I have a wonderful new respect for the power of womanhood," says Kate Nelson, an abstract painter who works primarily in a studio. "And there's joy in sharing something you love."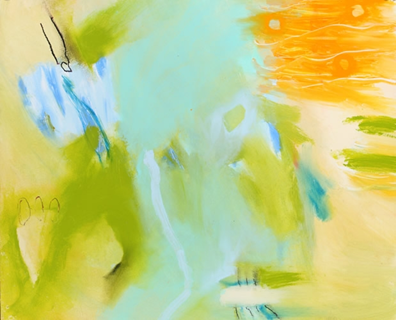 All Things Loose And Set Afloat II, 18x24 oilstick, by Kate Nelson