100 Works in 100 Days
by Barbara Hersey
On a cold night in February I began my "100 Day Project," a personal artist journey to create 100 works of art, new each day for 100 days and offer them for $100 each.
Some understand the "100 Day Project" as a tool for celebrating the 100th day of grade school, but there are all sorts of 100x100x100-type art projects, fundraisers and exhibitions in the art world. For me, the 100-Day Project began as something I would pursue for myself and share with no one.
A number of things happening around the same time, through the whirling February winds, became sources of inspiration to embark on this project.
First, the devastating earthquakes hit Haiti. Amidst the sadness in the news, I learned about the lost murals of the Episcopal Cathedral in Port-Au-Prince and searched for photos online.
Second, the concept of the 100-Day project came to me from a friend, whose friend started earlier that winter. She had strict rules: all 6"x8", oil on canvas, and one basic theme.
Next, I took my sons to the movie Avatar and the next day to the Cape Cod Symphony Rachmaninoff concert. Then Roger De Muth, a college professor who taught me the importance of a daily sketchbook, published his Nantucket Sketch Book.
A line from Anne Lamott began to haunt me. "I do not at all understand the mystery of grace – only that it meets us where we are but does not leave us where it found us."
All these disparate elements ended up in the melting pot and stewed for a short while to feed a growing desire to use my talents.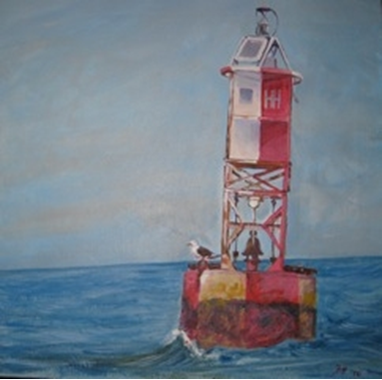 Day 18: the HH buoy, acrylic, 18x18"
As a new junkie of the social media craze, I decided to ask online friends if I could sustain a 100-Day project. Being good and excitable friends, they said, "Yes, go for it!" One talented artist friend, who is also a dad said, "I think it is a great idea but maybe try a "Mom" variation, 50+ paintings in 100 days?"
I considered their comments, especially the last one, and still chose to do my very best to engage in this crazy endeavor.
I decided to stick to one size, but not one media. For years I've taken photos with paintings in mind. As a working mom with precious little time for studio work, it's much more cost and time efficient to use photographs. I could draw and block out a painting from scratch, but I do not at all mind the shortcuts that using photos provides.
The media and subject matter I used varied greatly. They were pulled from a stack of photos that I'd been saving with the idea that I'd paint from them one day. 'One day' used to seem like never because the hateful word 'busy' took over my days and all my 'free' time.
In preparing for the 100-Day project, I had to make sure I had materials (mainly acrylic, watercolor, and pastel), paper and canvas. Being the proverbial artist and packrat, none of this was a problem.
The subject matter I photographed didn't always work with a limited size, so I changed the rules expanding the format. One of my now finished 100 paintings is 3'x6', a few are as small as 3"x5", some are on found wood board or cardboard.