In reality, the eight children were not allowed above their knees and we teachers were right in the low tide water of the marsh creek with them. What bothered me most was that this child definitely needed to be in my class.
He needed exposure to the wonders of nature to instill in him a respect for life, whether it was the beetle he tried multiple times to kill or the crab which did not escape.
Respect for all life is a thread throughout the literature of Thornton Burgess. His love of the little wild folk is so evident in his animal tales.
In his autobiography, Now I Remember, Burgess tells the story of his first gun and the chickadee whose body he held out proudly to his mother. He speaks of how he looked at the dead bird and remembered the great times he had watching chickadees and their antics. His eyes became tearful as the impact of what he had done grew clear in his heart.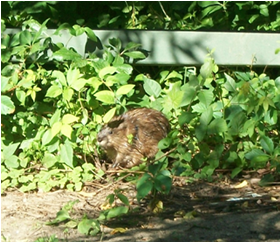 Jerry Muskrat, photograph by Abby Kelley.
This year marks the 100th anniversary of Old Mother West Wind written by Cape Cod native Thornton W. Burgess. This nature book, the first of many penned by Burgess, introduced children to a wide variety of local animals, their habits and habitats.
Born in Sandwich in 1874, Mr. Burgess achieved international fame as a children's author, conservationist and naturalist. He was a staunch advocate of habitat preservation and championed respect for all living things.
During his long literary career, Burgess authored over 170 nature books and published over 15,000 stories in 200 newspapers across the country. Many books were translated in Braille, Chinese, Gaelic, Swedish, German, French, Spanish and Italian.
During this centennial year, I'm enjoying working with young readers enrolled in our Burgess Book Club. It is so much fun facilitating a group discussion on the month's book then introducing them to animals and habitats mentioned in the stories. These children inspire me to continue my mission here.
Life is a precious gift best lived fully and passionately, with frequent opportunities for mud between your toes, twigs in your hair and seeds stuck to your socks.
Mary Beers is the Education Director for the Thornton W. Burgess Society. She lives in Sandwich with her husband Don and daughter Jenny.