Sarah Holl: Teaching Art from the Heart
by Nicola Burnell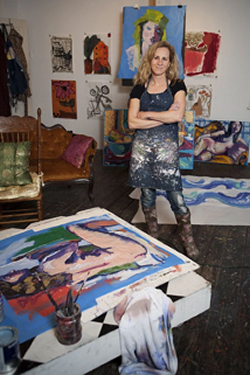 Sarah working in the Guyer Barn Studio
Photograph by Andreas Kuehn
Nothing is more important to the fledgling artist than someone who nurtures their creative dreams. Finding a mentor who not only loves to teach, but lives her dream of being an artist, can be the opportunity of a lifetime.
Sarah Holl is an artist, teacher and mentor with the passion and patience to foster even the most tentative of students. Like her own artwork, she is vibrant, colorful and inspiring. It's this energy of playfulness and possibility that has drawn many new students to her weekly figure drawing classes, held at the Guyer Barn, behind her Hyannis studio.
Sarah's love for art was nurtured by her artist father Harry Holl, founder of Scargo Pottery & Art Gallery, in Dennis. "All the time spent with my father was spent creating - we never did anything else," she recalls. "Every Christmas and birthday he always gave me art supplies; really nice ones, which I loved. There's nothing like a brand new box of pastels or markers!"
When asked to lead an arts revitalization project on Pearl Street, in Hyannis, Sarah welcomed the challenge to bridge the gap between the Cape's art community and the public. As Pearl Street's first Artist in Residence, she opened the doors to her Artspace Studio, built in the 1920's, to anyone curious enough to enter.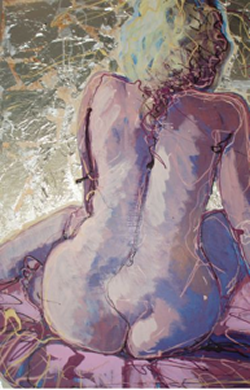 Hershey's Kiss, by Sarah Holl,
Mixed Media Collage with Resin
With Artspace located 46 Pearl Street, across the street from Sturgis Charter Public School, Sarah saw an opportunity to reach out directly to teenagers. A former art instructor for the Cape Cod Museum of Art and Cape Cod Community College, Sarah now teaches weekly figure drawing classes to teens and adults at the Guyer Barn.
"I started teaching teens at the museum after getting involved in the school-to-career art intern program. I really enjoyed turning teens on to art. I remember how much it had helped me when I was a teen."
These after-school classes enhance the education the students receive in school by focusing more closely on observation and technique. "I show students how to see. I also encourage them to have their own voice and the importance of that."
The discipline of the class structure serves to push students beyond their comfort zone by timing how long they can work on their piece. This encourages them to work quickly and push past the internal critic that could otherwise slow them down, or halt them altogether.
Each class begins with a warm-up period, where the model will pose in different gestures, followed by longer poses. Sarah instructs her students throughout the class as a group and also on an individual level.