When I lived in England I couldn't drive passed wisteria without grabbing my camera. I've been nursing a wisteria tree in my garden for over 8 years now, and it has only ever bloomed twice!
Last May, I marched toward its sprawling limbs that have snaked their way along my fence, with garden shears firmly in hand. "If you don't like it here, I can put you out of your misery," I warned, scanning the limbs for signs of life.
I almost missed them. The buds were smaller than an inch long, but there was no mistaking the asparagus-head-like growth that would soon expand into purple tendrils of intricate beauty. "Yes!" I shrieked, tossing the shears aside. "You're going to bloom this year!"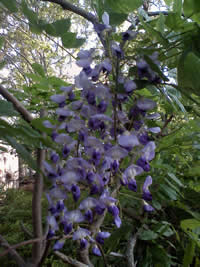 Watching for Wisteria, Photograph by Nicola Burnell
I can't tell you how long I stood next to those flowers, inhaling their sweet scent, photographing them from every angle that I could twist myself into. I was determined not to miss a moment of their brief display of determination.
I'm not sure why my wisteria flowered last year, but you can bet that I'll be out there again, shears at the ready. I won't cut it down, of course. But I will let it know that I'm watching, and hoping for more blooms.
Although Spring comes a little late to the Cape, it does come, eventually. And it is beautiful, in its own, Cape Cod way.
I anticipate the signs of spring as fondly as I do the first snows of winter; the comforting jack-hammer sound of the woodpecker calling for its mate, or the chickadees fighting over birdhouses nailed to my trees. My new companions through the hot, summer months to come.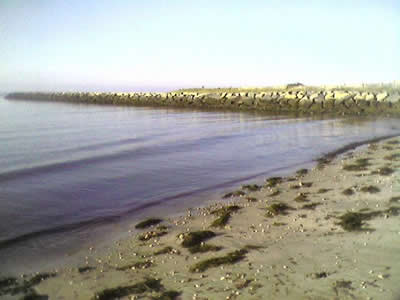 Gentle Waves of Season's Change, Photograph by Nicola Burnell
For all the complaining I may do when I miss the glory of the English Spring, there's something England could never give me; my afternoon walks along Nantucket Sound. No matter what the season, Cape Cod's beaches offer the most stunning views, luring tourists into endless lines traffic with their promise of serenity.
This IS the land of first light, if not the home of the prettiest Spring. But if I'm honest, I have to admit that Cape Cod's quirky seasons are worth all the daffodils and bluebells in the world.