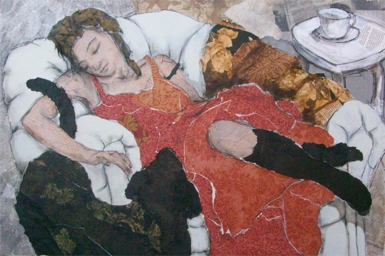 Black Socks, Mixed Media Collage, by Jackie Reeves
Welcome to the Winter issue of CapeWomenOnline, where we celebrate the dawning of a new year and a new decade.
This issue introduces you to five new contributing writers who offer advice, inspiration and motivation with stories of self-discovery, embracing what they are most passionate about.
In Recovering from the Holidays with EMDR, Constance Wilkinson explains this powerful yet mysterious healing technique.
Megan Cronin offers her support to the Victims of Human Trafficking and Linda Posage is Instructed by Courage.
Yvonne deSousa does battle with the Mii inside her Wii and Desiree Moyer introduces us to the women-owned solar company, UnUtility.
In From Publisher to Medical Intuitive, Gillian Drake embraces her passion for optimum health.
We also continue our regular features: artist Jackie Reeves is Living her Dream, and our Woman to Watch is volunteer Barbara Nagle.
Caitlin Doggart is back with her suggestions for New Fiction for the New Year, while Katie O'Sullivan has self-promotion tips in I've Written A Book – Now What?
We hope you enjoy this issue and look forward to your feedback. As always, we are eternally grateful to our contributors and advertisers who make this magazine possible.
Nicola, Katie & Jane