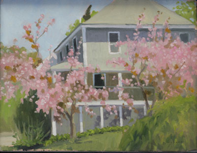 Hillary Osborn's Cape Cod: Where Art finds the Perfect Home
by Molly Stoloff
Absorbed by the simple, sometimes austere beauty of Cape landscapes, Hillary Osborn experiences an emotional range from serenity to exhilaration when she's painting. The results evoke similar responses in those who view her works.
In choosing a particular scene she explains that while she may be drawn to the view, her decision to paint it depends on an internal response.
As a child, Hillary enjoyed creative projects. Her high school art teacher, Miss Eldridge, inscribed a pivotal book on Degas and presented it to her, transforming the book into a symbol of her dream.

Living the Dream From Production Potter to Porcelain Artist
by Diane Heart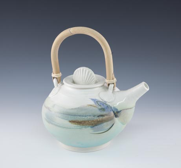 As a child I was always crafting something, and usually trying to sell it. My mother was quite a seamstress, and from her scraps I made clothes for trolls, pocketbooks, and of course potholders. In junior high I was beading necklaces and bracelets by the hundreds.
It wasn't until after high school that I got my hands in clay at a local art center. I was hooked on this pliable, recyclable material – much less expensive than the silver I had fallen in love with making jewelry in high school.

Naturally Inspired: Paintings Abstracted from Nature
At the Cape Cod Museum of Art
Naturally Inspired: Paintings Abstracted from Nature will be on exhibition at the Cape Cod Museum of Art from April 2 through May 29.
This exhibition will feature paintings from seven abstract expressionists associated with Cape Cod: Bailey Bob Bailey, Mike Carroll, Betty Carroll Fuller, Jan Lhormer, Francie Randolph, Carol Odell and Bert Yarborough.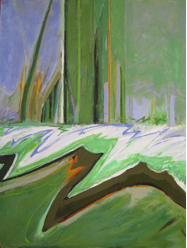 Walking Deep Greens, by Carol Odell
The artwork in this exhibition is inspired by nature, and by organic forms ranging from plants and gardens to the sky and outer space. The artists' abstract representation of these forms makes them as beautiful as they appear in nature.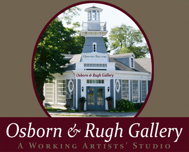 Osborn & Rugh Gallery
Queen's Buyway,
114 Palmer Avenue
Falmouth, MA 02540 Cape Cod
(508) 548-2100
hillary@osbornandrughgallery.com
www.hillaryosborn.com