After joining the Falmouth Artists Guild, she served on its board of directors, teaching, showing, selling, and learning something she knew little about, the business side of making art.
A Provincetown gallery solicited work, requesting local scenes. In supplying the gallery the following summer she built a body of work, traveling to and from Provincetown weekly to paint. Each move – be it to a new studio or new gallery – reinforced her belief in the work.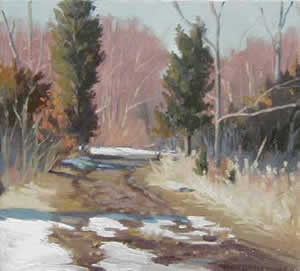 Her search revealed available studio space at the Cataumet Arts Center. Having met artist Doug Rugh prior to the move, the two artists now found themselves in adjacent studios.
A New York City gallery discovered her work, exhibiting and selling it in the City. In 2004, Hillary and Doug were married.
In Cataumet, Hillary took in student interns, passing on knowledge and studio experience to a younger generation. She joined the Copley Society, exhibited, and increased sales, her reputation expanding. Faced again with shrinking space, together the couple searched for a gallery location.
Prepared now to manage a business, they renovated and moved into Queens Buyway. Hillary remembers their gallery building from childhood, "as the big white one we passed on the way to the ferry, the one with all the windows and a cupola over the doorway."
Today, works by Hillary and her husband cover the walls of their gallery. Occasionally the landscapes are punctuated by a still life, rarely a piece with a figure.
Working 'plein air,' she transfers what she sees and feels on location to the canvas, sketching at first, followed by additional on-site and studio work.