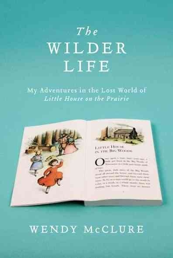 by Wendy McClure
While cleaning out boxes after her mother's death, Wendy McClure rediscovered her worn childhood books and immersed herself in the world of Little House on the Prairie. She embarked on the nebulous project of exploring the series from her adult perspective and following her childhood love of the semi-fictional world Laura Ingalls Wilder created as far as her interests carried her.
Often accompanied by her fun-loving, supportive boyfriend, McClure traveled to most of the actual sites in Wilder's life. She slept in a covered wagon and a sod house, spent vacations driving to remote locales to see "Laura and Nelly" look-alike contests and churned butter in her Chicago apartment.
McClure is incredibly funny throughout the journey. She is also clear-headed, maintaining genuine enthusiasm without getting washed away by nostalgia, and including scholarly research without being pedantic. She has a unique appreciation of pioneer details - the sunbonnets! cornhusk dolls!
Her astute understanding of the emotions behind Little House on the Prairie, and her memory for cross-connections within the series, fully engage the reader. Connections between Wilder's narratives and McClure's own personal life give this memoir an unexpected depth.
You need not have recently read the original series to appreciate the anecdotes, but revisiting these classic books in anticipation of The Wilder Life would be a wonderful lead-in for this marvelous tribute to a culturally fascinating and beloved pioneer story.