My father died from ALS in 1982, which made me want to come back East. I found another ad for a job at a pottery in West Barnstable. This time it was producing early American reproductions. I was paid by the hour and I learned all aspects of working in clay.
When the pottery closed I rented a shared studio in Hyannis. To make ends meet, I rented studio time and taught lots of classes!
There were many times I wanted to give up, but I thought of my Dad working a job he disliked and waiting to retire only to die too soon.
I made pots for a woman in Boston two days a week. Pots for an animal crematory. Pots for craft shows and pots for free, too. Just do what you love and the money will follow.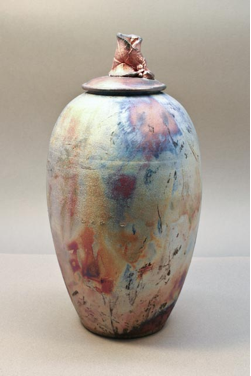 Raku Fired Urn, 14" high
Learning to ask for exactly what you need was my motto. Get an exact number in your head and you'll be amazed! $187 for a propane bill for my kiln and at the end of the day… $187 in sales! BELIEVE!
Tired of all my long hours, I really wanted a shop on Route 6A. This would allow me to give up craft shows and selling my work at wholesale to other shops. People told me I was crazy. Just get a "real" job was what I heard over and over again. This was fuel for my goals.
I found a run-down house with a run-down shop building on 6A in Brewster. My friends thought I was nuts. My mother cried when she set eyes on it, but I had a vision!
I continued teaching, and two days a week I worked as a ghost potter. A ghost potter throws pots for someone else who then signs and sells them. Those production pottery days paid off!
At first, times were tough. There is one story from that period I want to share. I was sitting by the phone, hungry, with no money. One of my students called and said she had to move back to New York City and was wondering if I wanted the food in her freezer. She was a vegetarian like me, and a great cook. BELIEVE!