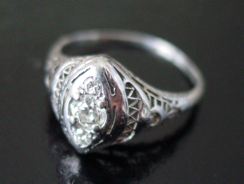 That night over dinner, Bob said, "It looked wonderful on you."
"Well, have you looked at the 'bills to be paid' file lately?"
"You take something away from me by not treating yourself," he said later while we did the dishes.
I had a dream about the ring that night. In my dream, the ring was in a fire and the platinum was gone forever.
The next morning, I found Bob weeding the front garden. "I've been thinking about the ring," I said. "I really do love it." He stopped pulling up old thistle. "Let's just do it," I said. And he joyously came in the house to change before we drove back to the antique shop.
In their parking lot, he held up our check book, grinned like a kid, and said, "I'm ready!"
I felt so naughty rushing to the glass display case. With the excitement of a child on her birthday, I looked for the ring.
It was gone.
"There was an old platinum ring here yesterday," I said to the saleswoman. She helped me search through the jewelry cases. Then she confirmed it wasn't there. She called over to a woman named Helen, who said, "We sold it yesterday."
"I can't believe it," my salesperson said. "It's been here for months." Then she gently admonished me. "Whenever you see something you like in an antique shop, you should take it. At least you could have told me you were interested and I'd have held it for you for a little while. But you didn't look like you really wanted it."
On the ride home, I felt badly for Bob, since he was obviously disappointed for me. "It's just a ring, sweetheart," I said. "There will be others."
I was in the throes of a head cold on the day of our recent anniversary so we stayed home. Bob made an elegant dinner, with Napoleons for dessert.
I was blowing my nose and looking rather dreadful in my faded chenille bathrobe when Bob brought our desserts to the table on a silver platter. There, next to mine was a tiny box, gift-wrapped in gold with a sparkly bow in the shape of a star. In a grand gesture, Bob presented me with the little box.
"What is this?" With luscious anticipation I wondered what gift my sweet husband had picked out for me. I opened the tiny box.