ZUMBA Your Way to Better Health
by Johanne Kieffer
New Year's Day 2010. Once again, a time to renew. This would be the year I commit to exercising regularly.
As usual, life got in the way.
Days turned into weeks. Weeks turned into months. My alarm kept going off at 5:30 a.m. I kept hitting the snooze button.
In September, a little blue booklet appeared in my mailbox unsolicited. It was a listing of community education classes. In a moment of exhaustion and self-disappointment, I flipped to the page marked "FITNESS AND HEALTH". Drawn to the words Zumba Fusion, I wondered, "What the heck is that?"
The description read: "Zumba Fusion workout is a Latin-inspired fitness program…" My eyes traveled quickly to "…with easy to follow dance steps…"
Dancing? I love to dance! I could do that! I had a brief "Jane Fonda Workout" flashback, including big hair and leg warmers!
Without hesitation I signed the form, wrote a check and added my name to the list. I was entering the new age of dancercise called Zumba. I had no clue what it meant, but I was excited about my commitment to finally exercise. Now I belonged to a class. I had to follow through.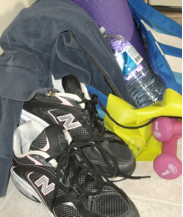 Zumba essentials
I enter each session with my bag flung over my shoulder carrying my Zumba essentials: yoga mat, two-pound weights, dyna band and bottled water. Outfitted in an ensemble of sneakers, yoga pants, t-shirt and sweatshirt, I unload my pack of fitness tools and remove my jacket.
The sound of rhythmic drumming is vibrating through the room. It's some type of world music – my cue to take my place on the floor with the others. It's time to move.
I watch the instructor's feet like a hawk and follow her every move. She taps her toe, I follow. She jumps to the left, I follow. She shakes her hips, I follow. She calls out the move and counts down the repetitions. I don't have to think, just follow her lead.
The music picks up tempo and pulses through my veins. My body takes over as my mind enters the realm of moving meditation. A rush of warmth flows through my being and perspiration beads on my neck and chest. I peel off my sweatshirt and toss it to the side, still moving in sync with the beat of the sounds echoing in my ears.
My trance is broken when I hear, "Get some water if you need it and grab your weights". I power walk to the sidelines and take a couple of swallows of my spring water, trying to replenish what was evaporating through my skin. I grab my two-pound weights and resume my place back on the floor.
There is a change in pace. I hear a familiar beat. "Tonight I'm gonna party likes it's 1999..." We're moving in unison to Prince. With weights in hand we continue to move, working different muscles all the time; curls, pull downs, punches and kicks, every class is different.