Cape Cod Community Angels:
Teaching Compassion through Community Service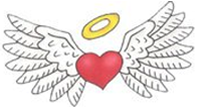 by Claudia Robinson
On television, Charlie may have had three infamous angels, but Jodie Pear has ten. And while gun-slinging and chasing bad guys may not be the order of their day, they do change lives and help those in need.
The story began three years ago, when Jodie was at the pinnacle of her career as Marketing Director for Epoch Senior Living. Motivated and selfless, Jodie found a deep satisfaction in her work.
A mother of three, Jodie didn't pay much attention to the sudden recurring muscle aches and exhaustion she began to experience. Instead, she pushed herself harder.
"Even as a child, Jodie was go-go-go," explains Bev Hall, Jodie's mother. "I would come home and she'd have her bedroom re-arranged. Once she decided she didn't like the bathroom wallpaper, so she stripped and painted it!"
It wasn't until she began slurring her words and losing her balance that Jodie resigned herself to the fact something was very wrong.
"The symptoms screamed MS," Jodie recalls, eyes misting with tears, "but the tests kept coming back negative. They gave me medication but that just exacerbated the symptoms. It was like I was drunk all the time."
Despite multiple visits to various hospitals and second, third and fourth opinions, Jodie's symptoms progressed, affecting her job performance. "Eventually my boss pulled me aside and said, 'Look, Jodie, you need to take care of your health, you need to go home.' You have no idea how devastating that one sentence was."
"I needed to reclaim my self-worth, and I had to find my value." She glances over her shoulder at her mother. "Giving back to the Community, helping those in need, taking care of others, it's in my blood. She (my mother) taught me to be that way."
Apparently the apple doesn't fall far from the tree. One morning, Jodie's older son Nick required a set of fasting blood tests, only to find a waiting room full of hungry and cranky people ahead of them. Jodie envisioned a worst-case scenario. "He was hungry too, and he complained. What hungry teenage boy wouldn't?"
Another mother arrived with a diabetic daughter. Seeing the long wait, she panicked and desperately tried to estimate their waiting time, calculating how long before the fasting became dangerous for the girl. The overburdened receptionist simply told them to take a number and sit down.
Nick rose, approached the mother and handed her his ticket. "I'm next, take mine," he offered. "The mother was so grateful," said Jodie, "and I was just so proud of my son."
Jodie suddenly had an idea. "I realized that, disability or not, I still had the ability to teach others how to give back. How to care."
Jodie turned her dream of helping others into reality, creating the Cape Cod Community Angels, a group for young girls in grades 2-5. The group's main objective is to serve their community by volunteering time and raising money for worthy causes.
Initially terrified of the toll the undertaking might have on his wife's health, her husband Jeff now sees how much this group means to Jodie and how happy it has made her. He stands by her, helping out whenever possible.
The Angels came together immediately. "It started off with a few girls, friends of my daughters. They had so much fun they began sharing what they were doing with other friends. Next thing I know, in less than a month, I had 10 girls!"