Living the Dream
Jackie Reeves: Emerging From Motherhood to Artist
by Nicola Burnell
One of six sisters, with three daughters of her own, artist Jackie Reeves playfully explores the transitions of womanhood from one stage of life to another.
Blending inspiration with emotion, she captures women of all ages in moments of ordinary life. What makes this artist so intriguing is her ability to turn these simple moments into timeless works of extraordinary beauty.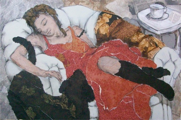 Black Socks, for example, evokes the sublime comfort of sinking into a luxurious chair. This colorful collage is created from torn newspaper, charcoal, paint and wallpaper samples.
Both Jackie's parents are architects, which heavily impacted her creative development. "I was influenced by that whole experience of mapping, drawing, doing the types of illustrations that come with drafting." This influence is reentering her most recent artwork.

Beyond the Canvas
by Kathryn Kleekamp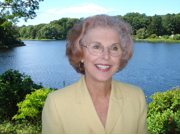 "Poetry and art are ways to communicate with paradise."
William Blake
One of my greatest rewards as an artist comes when a viewer finds personal meaning in my work. Usual approval comes in the form of an email nod of appreciation or a pleasant handwritten note.
Imagine my surprise when I received an email from a woman who had been touched by my painting, Winter Hoxie House and to show thanks was sending me an "ekphrasis."
My immediate thought was this might be some type of Greek pastry. Perhaps that was her specialty, one creative effort rewarded by another. I couldn't be more mistaken.
Although not edible in the regular sense, ekphrasis is indeed a gift that nourishes one's inner spirit and fuels imagination. As I later learned, ekphrasis is one of the oldest types of writing about or for art.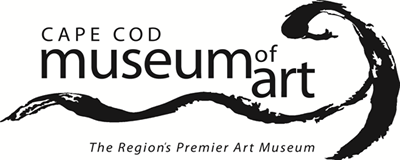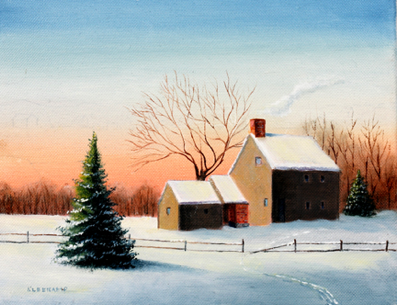 Hoxie House, oil painting by Kathryn Kleekamp
Marguerite E. Falconer: Peaceful Landscapes
Cape Cod Museum of Art,
January 29- March 27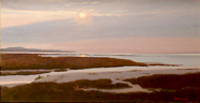 Sunset on Paine's Creek
Her second grade teacher inspired her love of drawing and painting, and Marguerite Falconer never looked back.
Now in her mid-eighties, she still paints Cape Cod scenes from her home studio and still accepts commissions.
An exhibit of some of her best landscape paintings will be on display at the Cape Cod Museum of Art from the end of January through the month of March.
Marguerite's oil paintings are very soft and clear, drawing the viewer right into the scene and creating a deep feeling of peace.