These events would bring us out of October and right into November. Though this holiday has more religious undertones, it is a feast on a grand scale. Beautiful candies, cakes and breads are prepared exclusively for this holiday.
Food vendors are out in a vengeance on every corner, sabotaging my minimal gym progress. Corita, the underworld bride, smiles at me mockingly on every block as if to say, "Oh no you don't!"
We spent Halloween night handing out treats to the children while seated at the beach bars, sipping margaritas on a balmy 80-degree, moonlit evening.
Amusingly, the costumed children shout, "Halloweeeeeeeeen!" and not "Trick or treat," excitedly embracing this increasingly popular Americanized tradition.
Pacing myself, I saved some energy so as not miss the opportunity to spend the entire next day touring and paying tribute to numerous alters honoring those who were here and have left before us.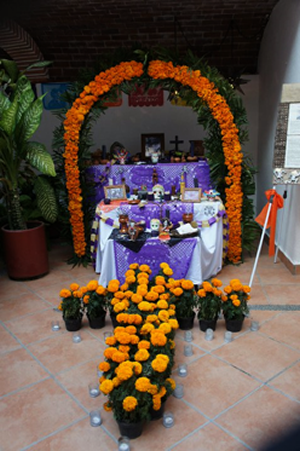 Day of the Dead 2010 Photograph by Darlene Carucci
These elaborate, lovingly thoughtful presentations are emotional and humbling. To stop and honor those who were loved and are gone is beautiful. To see their photographs, their faces, favorite foods, and personal belongings like a pair of glasses or toy, all artistically displayed upon a colorful alter is quite poignant.
There is much tradition and symbolism in the colors, flowers and incense chosen for these dedications. These altars can be found in storefronts, home fronts, public buildings and hotels. I could not get enough of this.
After a day of dragging my daughter around in the sweltering heat, with short breaks for our favorite popsicles, or a beer for me and a soda for her, we compromised. I sacrificed the observance of the graveyard vigils for a market square pagan drumming parade and consumption of some of the most delicious street vendor food I've eaten.
November arrived with the promise of routine and discipline. I needed to get back on my planned vacation of structured reading, writing, sunning, exercising, and exploring. But, not to be outdone by October, November had two school holidays to commemorate.
Mid-November brought Day of Revolution, not to be confused with Independence Day. This Monday, tied into the weekend holiday, was a centennial event, observed (gratefully) on a smaller scale of celebration and feasting. Besides, we needed to bank some calories because the American School my daughter attends also observes Thanksgiving.
Like good Americans abroad, we chose to spend Thanksgiving at the beach nibbling on chips and salsa. I would have had a turkey taco if available. After all of the many exhausting Thanksgiving Day dinners I have cooked and cleaned up after over the years, I was internally gloating that I had this opportunity to opt out.