Restez Chez Moi, Quand Il Pleut
by Mariah Orchid Kelley
In April 2009, an exchange program through Sturgis High School brought 20 to 30 French high school students to Cape Cod for a ten-day immersion in American culture.
The young woman who stayed with my family, Marine, was the embodiment of what we'd imagined a French girl to be: petite, blonde, and sensationally fashionable.
Armed the entire ten days with a French/English dictionary and a tourist mindset, my family tried our best to show Cape Cod to her, in between her excursions with her entire exchange group.
When the time was up, I wasn't really sure what I was supposed to get out of the trip besides some nice photos and a gift in the form of a coffee mug reading 'Made in Marseille'.
Then, in February 2010, Marine expressed her desire to come back to Cape Cod, to visit my family and to experience American culture. My parents immediately accepted the idea of Marine staying with our family.
The hardest part was the waiting that ensued, and the brainstorm of ideas for interesting places to take her.
"If I were to go to France," I asked myself on numerous occasions, "Where would I want to go?" Ideas from friends and family were abundant in regards of places to take Marine: on a whale watch, horseback riding, to the movies; a museum, and since they don't have baseball in France (much to my boyfriend's horror and dismay) why not take her to see a game?
I asked Marine dozens of times about the activities she'd want to do when she visited, and the answers were always the same: shopping, and the beach. With a smile, I realized that I could do that. I could easily buy a town beach sticker, and what teenager on Cape Cod has never been to the mall?
It sounded easy enough. If only I'd realized it sooner: ten entire days having to entertain someone whose culture, and therefore tastes and ideas of a good time, are completely different than your own.
It wasn't like the last time when she'd visited with the exchange program, which took her and the other students on all-day excursions while I stayed comfortably in school, without a constant shadow.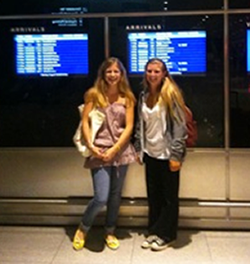 Meeting Marine at Logan Airport
Marine arrived at the Logan airport on August 16 at 8 p.m. Because of the time difference between Cape Cod and Marseille, she was exhausted. By the time we reached my house, it was around 2 a.m. in Marseille. Marine was more than happy to fall asleep on the extra mattress in my room.
During the next few days, we visited the beach and the mall, and Marine met a few of my friends. Her English was very good; better than it had been during her first visit the previous year. However, I still caught myself simplifying my speech, and choosing simple words in order to portray my points.