Living the Dream
Jackie Reeves: Emerging From
Motherhood to Artist
by Nicola Burnell
One of six sisters, with three daughters of her own, artist Jackie Reeves playfully explores the transitions of womanhood from one stage of life to another.
Blending inspiration with emotion, she captures women of all ages in moments of ordinary life. What makes this artist so intriguing is her ability to turn these simple moments into timeless works of extraordinary beauty.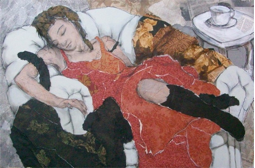 Black Socks, Mixed Media Collage 18x30"
Black Socks, for example, evokes the sublime comfort of sinking into a luxurious chair. This colorful collage is created from torn newspaper, charcoal, paint and wallpaper samples.
Both Jackie's parents are architects, which heavily impacted her creative development. "I was influenced by that whole experience of mapping, drawing, doing the types of illustrations that come with drafting." This influence is reentering her most recent artwork.
Jackie works on a canvas of recycled rolls of vellum and old architecture paper, donated by her father, which, being transparent, create additional depth and layering to her pieces. "Originally, I was collaging with the drawings, cutting them up and putting them into paintings."
She is now working right on the paper, as seen in her collage Sisters, Dreamers. "It's a really great surface to paint and draw on. It gives me a surface that already has marks on it, which is a nice jumping off point for me. I like working with the paper that's not so pure and white sometimes."
A 1990 graduate from Concordia University, in Montreal, with a BFA in Design Art, Jackie explored many mediums in college, but had no formal training as a painter. When she moved to Cape Cod from Montreal, fifteen years ago, she set up business as a mural painter, doing faux finishes on walls, stenciling and texturing.
Jackie lost a sister to cancer in 2008. "That was a big turning point for me," she reflects. When she was invited to move into studio space at the Old School House in Barnstable, in 2009, she was ready to commit to her art. Now sharing CHALKBOARD Studio with James Wolf and Richard Neal, she is focused on working on her art every day. "Life is short and I decided to just do it."
After fifteen years of working as a commercial artist, she is enjoying the freedom of working in her studio. "The exciting thing about being in the studio is you just don't know what you're going to make next. As a commercial artist that's so much fun – it's the opposite of the commercial world, where everything is planned and client-approved."
Jackie loved to draw in college and has had extensive figure work training. "It's essential," she says. A graduate level drawing class inspired her to focus more on drawing, which has become a major part of her technique. Using her father's paper has sparked some ideas about architecture and her own artistic roots.