"We are not the Utility;
we are the Unutility!"
by Desiree Moyer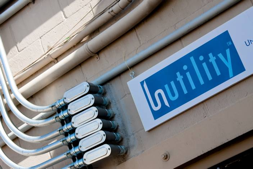 Unutility - A Sign of the Times
Solar energy seems like an easy, environmentally friendly solution for our energy needs – especially on sunny Cape Cod. But ideal sites for harvesting solar energy are rarely owned by businesses able to afford the upfront cost involved with installing a large photovoltaic array.
On the other hand, there are private financial resources looking for opportunities to fund renewable energy. And the new Solar Renewable Energy Certificates (SRECs) make it financially attractive for everyone involved.
Unutility Electric was formed to solve this conundrum. Unutility Electric, LLC is a women-owned company with a unique business model. We develop and own photovoltaic arrays atop businesses on Cape Cod.
Green Electricity
The solar arrays owned by Unutility Electric produce green electricity, which is sold at a discount to the businesses at the sites. Without this model, the businesses would be purchasing all of their electric power from the utility company.
In the United States, our standard electricity is currently generated from a mixture of 48.2% coal, 21.4% natural gas, 19.6 % nuclear, 6% hydro, and 1.1% petroleum. Biomass, solar, and wind make up less than 3% of the current generation. (This is according to the U.S. Energy Information Administration, Form EIA-923, "Power Plant Operations Report.")
Among the renewable sources, hydroelectric power dominates. While hydro is renewable, it is not necessarily environmentally friendly. There is no hydro-electric power generation on Cape Cod, although New England does have some small hydro generators. The U.S. "imports" hydro-electric power from Canada, but it's unlikely that significant increases in domestic hydro generation will be developed.
Personal Investment
As an avid environmentalist, I wanted to, as the old saying goes, "put my money where my mouth is." I made a serious commitment, but it was a calculated investment. This endeavor has worked well for me both emotionally and financially. As an owner of solar electric generation, I take advantage of tax credits and depreciation while enjoying a predictable cash flow year after year.