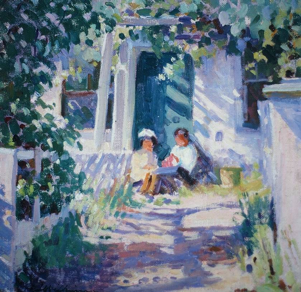 Packed in a Trunk
by Jane Anderson
I've had the privilege of living with a Provincetown artist for the past fifty years of my life.
She died when I was only three, but her paintings hung on the walls of the house where I grew up. They now hang in my home here in the Hollywood Hills, a good 3,000 miles away from where she first set up her easel on the Provincetown beach almost a hundred years ago.
You've never heard of Edith Lake Wilkinson. At the age of 57 she was committed to an asylum. Her art, along with all her worldly possessions, was packed up in a couple of trunks and shipped off to her sole surviving relative, a nephew in West Virginia. Edith was never heard from again. The trunks sat in an attic for the next 40 years, shut tight and collecting dust.
And then my mother showed up.
Some time back in the early '60's, my mother was having one of those bored, restless days, visiting the in-laws in Wheeling. She proposed to my Aunt Betty that they go up to the attic of Grandma's three-story house and see what treasures they could dig up.
When my mother asked Aunt Betty what was in the trunks, she said, "Oh, I don't know, just some old junk." She told my mother that the trunks belonged to Uncle Eddie's long-forgotten maiden aunt. No one in the family ever spoke about poor Aunt Edith. She had been shut away in a mental institution and that was just something that nice families didn't talk about.
But when my mother opened the trunks, she found dozens of Edith's light-drenched canvases tucked in with her moldering clothes. Having an eye for beautiful things, my mother told my aunt to get those paintings framed and up on a wall. Thankfully, Aunt Betty took her advice. She kept some for herself and gave the rest to my mother who took them back to California.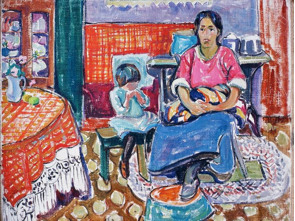 I grew up surrounded by Edith's art. They were the backdrop of my childhood. Her palette, her brush strokes, the quality of light in her landscapes became part of my own visual vocabulary. She taught me that the colors in a shadow are as gorgeous as anything that's lit by the sun.
I painted with her brushes that my mom had retrieved from her trunks. I ended up wrecking every last one of them but I don't think Edith would have minded. If you look at the studies she did of children, you can see that she had a soft spot for kids.