It wasn't until I arrived at the wooden refuge of the Fern Forest tree house that my true motivation for this writing retreat revealed itself. It wasn't just about the writing or the editing; this retreat was the perfect artist's date! I thought of Julia Cameron as my inner child thanked me with warm hugs and a happy dance around the surprisingly spacious structure nailed securely to four maple trees.
Everything about the tree house said cozy, comfy, snuggle-up-and-read, write or take a nap. I LOVED it! Perched thirty feet above the forest floor, I could finally see the wood for the trees, and it was beautiful.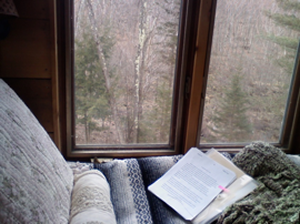 The tree house offers a spectacular view from the
futon window seat
I sat on the window seat and marveled at how the trunk of a tree ran right through the middle of the tree house, from floor to ceiling, less than a foot away from my right arm. I reached out to touch the moss, still damp from the previous night's storm, and noticed light pouring through the Frank Lloyd Wright stained glass window set into the door. It was this kind of detail that made the tree house feel so magical.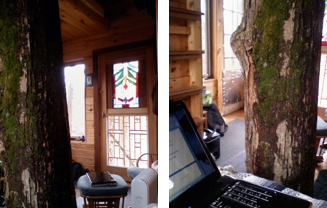 I was startled the first time a gust of wind moved the tree trunk in a circular motion beside me. But when the entire structure began to sway and creak, I felt like I was being gently cradled in the boughs of the trees, supported by the universe itself.
With my editing done, I began writing new scenes for my second draft and soon lost myself in the writing. When I looked up from my lap top, two hours later, the sun was setting through the window behind me, casting a glorious glow onto the trees below.
The wall ladder to the sleeping loft looked intimidating, but once I hauled myself heavenward, I discovered a queen-sized futon made up with flannel sheets and down comforter. There was a definite routine to shuffling butt to bed, as demonstrated by my host Harrison, who'd built the tree house with his son. After a couple of glasses of wine, however, this routine was attempted with even more care.

Wall ladder to the sleeping loft with Queen futon and down comforter
Sleeping so close to the roof left little distance between me and the many critters scavenging for food throughout the night. Once I'd convinced myself they couldn't get into my tree top sanctuary, I let their scratching lull me into a very deep and sound sleep.
I didn't want to leave the tree house in the morning. I felt so relaxed. Next time, I promised myself, I would spend all four nights within those gently swaying walls. Because there WILL be a next time. I'm hooked!
My hosts had nurtured me with excellent food and inspiring conversation, welcoming me into their lives with a graciousness and generosity that recharged my entire system. We exchanged emails and promised to keep in touch.
As I drove home to the music of Bob Marley, I drank in the mountain views, inhaling a sense of expansion that left me with a feeling of freedom that I haven't felt in a very long time. My writing retreat had given me so much more than completed pages and new scenes; it had blessed me with the peace of mind that I was yearning for.
To read more about Nicola's writing retreat and to see additional images of the tree house and rustic cabin visit her blog.