Celebrating 50 years of the Cape Cod National Seashore
We are delighted to share these photographs and reflections on the Cape Cod National Seashore as it celebrates its 50th birthday.
In Dreams
by Lisa Ricard Claro
I see Lieutenant's Island in my dreams. It calls to me from my childhood—a summer friend with ready laughter and suntanned skin that smells of salt and sea.
In family lore, my mother's extended kin of aunts, uncles and cousins were the first to discover this Cape Cod paradise. Mama spent her childhood summers in the 1930s and '40s on Lieutenant's Island. To my knowledge, only family members owned cottages on the island back in those early days. My grandparents honeymooned there, a very private getaway back around 1912.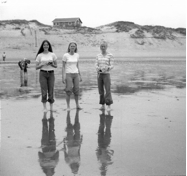 Born in Arizona, I knew the Cape only as a fairytale born of my Mama's memories. By the time we relocated to New England in the late 1960's, the family cottages did not dot the landscape alone. A few "outsiders" had moved in. Still, in all the times we vacationed there, I only once met someone to whom I was not somehow related.

Lisa Ricard Claro

Writing in the Buff
Buried History Lies Beneath the Beaches of the National Seashore
Cheers to Dead Pirates!
by Lynne Delaney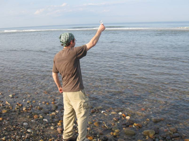 It is easy to become immersed in the magnificent natural beauty at Marconi beach in the National Seashore Park of Cape Cod.
On this particular day, the production of natural forces was especially mesmerizing. The air was unusually balmy and storm-like for an evening in April.
The clouds in the sky were built up in layers of mountainous shades of slate gray and blue. The wave-churning ocean water reflected these colors as if to exchange compliments of power.
My husband and I stood on the beach, lost in the vast and open creation of beauty. As we admired how amazing this place is, our attention slowly came back to the main reason we had come here this particular evening.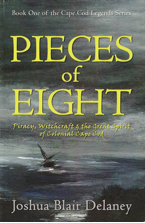 Author signed copies available at
www.capecodlegends.com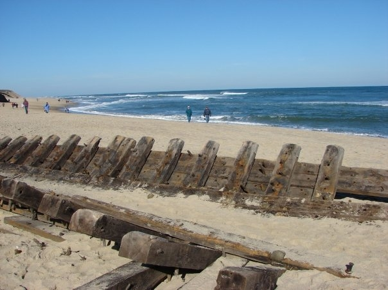 Shipwreck on Newcomb's Hollow Beach in Wellfleet Photograph
Courtesy of Darlene Carucci
Race Point Snapshots
by Katie O'Sullivan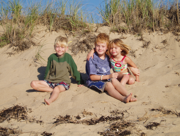 The year we bought a house on Cape Cod, many new family traditions were born, two of which involve the National Seashore.
The first new "tradition" is an annual outing to Race Point beach with Uncle Charlie, my husband's best friend who lives and works in Provincetown. We load up the minivan and head to the very tip of the National Seashore, where we spend the day on the outer reaches of the beach fishing, playing, watching seals and barbequing.
Charlie is co-owner of P-town Pedicab, those bicycle-drawn cabs you see riding up and down Provincetown's Commercial Street during the summer months. He's usually too busy at work to schedule any of his weekend time until early – or sometimes late – fall.

Seashore Memories with my Dad
by Darlene Carucci
Like the National Seashore, I'm turning 50 myself this year. I was thinking about which seashore memory I would like to share, and the answer was easy… my Dad.
My dad and I are a lot alike. The older I get, the more I realize this.
We share much of the same passion for history, nature and the National Seashore. He especially loves shipwrecks and lighthouses, which the Cape has plenty of.
Dad looks forward to our time together, but especially loves to head on Cape in the dead of winter. He loves how quiet it is and how easy it is to travel "without all the darn tourists around," he says. It breaks up the winter doldrums for both of us. We'd always turn it into an adventure of some kind.
Understanding how fast and fleeting life is, I always try to clear my day and think of something fun for us to do when Dad is coming on Cape. With that first cup of coffee I'd have prepared for his arrival, we'd talk about how we were going to spend the day.