Living the Dream
Time is Every Thing: Drawn by the Stronger Pull
by Nancy Nicol
To paraphrase the poet Rumi, "I have let myself be drawn by the stronger pull of what I really love." In the light of this Wellfleet morning life appears as I dreamed it would be – I paint, I write and then I paint some more.
Experiencing my self being drawn in a certain direction is rooted in childhood. A green leather diary - a gift for my eighth birthday - spells it out in big letters…Professional Goal – "ARTIST."
As an only child I learned that with pretending, talking to the girl in the mirror and utilizing an active imagination I could create images. I was never lonely; my parents and the Auntie who gave me that diary made sure I had art materials available and they rarely said "No" to my sometimes wild ideas.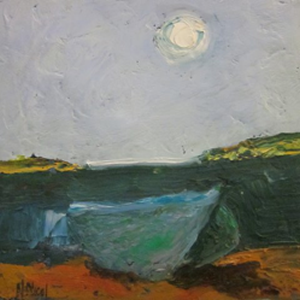 Skiff, Mayo Beach, Oil on Canvas, 2011
I was using oil paint by the time I was nine years old and had weekly lessons with my first mentor, Pauline Ward Mount, who never touched my work.
Just getting to the studio on the third floor of her Victorian mansion became a thrilling, if at times scary, adventure. Once inside the house, I quickly passed through heavy gates of wrought iron with life-size Chinese Foo dogs on either side, typically used to guard temples and palaces.
Chinese armor hung on a headless torso next to a statue of the Goddess Durga depicted killing a buffalo demon. Then I would race up the stairs, brush against African masks, shields and headdresses displayed in the hallway of the second floor and finally reach the familiarity of my stool and easel.
Years later, when I wandered into the Michael Rockefeller Wing of the Metropolitan Museum of Art, I was unexpectedly surrounded by beautifully grotesque New Guinea Asmat power figures and pottery containers of tribal magic and I sensed the energy of unseen ritual literally soaked into fibers of regalia.
The force and excitement of experiencing surprise - the unknown and yet unconsciously Known - has had a profound life-long effect on my interest in the styles and symbols of indigenous people - almost doodling, they often show up when I apply pigment.
While self-taught, I have had numerous mentors who have been both supportive and critical in positive ways. I commuted from Jersey City to Manhattan for eleven years to attend Friends Seminary (Quaker) where art, shop, and creative writing were considered basic to one's education. I had access to museums, theater, libraries and city life.
I was very independent and grew up with a philosophy of process - whether in decision-making by consensus or in the value of the actual doing of the work, not so attached to the end product. In 2009, I attended my 50th High School reunion.
To support my son and daughter when they were young, I have worked as a certified teacher of art K-Grade 12; a Head Start teacher in both inner city and rural areas and a Head Start Education Coordinator. I have a Masters Degrees in Counseling and Consulting Psychology and am a Licensed Marriage and Family Therapist with a private practice.