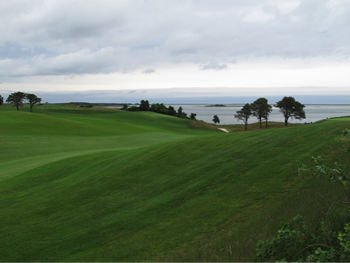 Photograph by Katie O'Sullivan
Conserving the Cape: From Golf Courses to Gardens
by Tina Newberry and Kathy Conard
What images does a summer day conjure up in your mind? Bright yellow irises swaying in the breeze, Cape Cod roses beckoning to bloom, the vibrant blues of the Cape's signature Hydrangea, quiet walks on windswept beaches, or soaking rains that quench the thirst of vibrant landscapes.
Summer is also thriving at the Cape's many golf courses that are abundant with colorful landscapes as well as bird and wildlife sanctuaries. Early in the morning golfers hear the eager chirps of baby birds waiting for breakfast to be served or a red-tailed hawk gliding low and scouting along the waterway. Turtles sun themselves while other small, furry creatures scurry and play in the natural, undisturbed grasslands that abound. No matter what your summer pleasure, the Cape has it.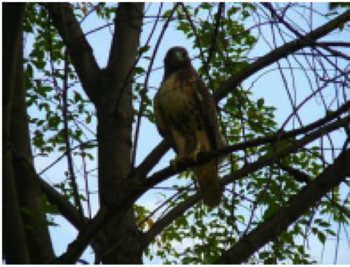 Photograph Courtesy of Harrell's
Small Changes. Big Results.
Now that you have a smile on your face, a warm feeling in your belly and a spring in your step, Harrell's, a company committed to beautiful turf, colorful landscapes and environmental stewardship, invites you to join them in Growing a Better World™.
It's time for all of us to become better stewards and implement more sustainable practices on the Cape. "We are very fortunate to be surrounded by such beauty and in order to sustain this natural haven we must protect and preserve it," says Chuck Bramhall, Harrell's employee and life time Cape Cod resident. "I am proud to work for a company that takes conservation and sustainability seriously, not only in the products we offer but in our everyday business practices."
Many of Harrell's employees have converted to more fuel-efficient vehicles for reduced carbon emissions. The Harrell's website offers a nutrient calculator that helps turf managers determine the amount of nutrition that is needed. Plants get only what they need and can use so run-off and leaching is reduced, which protects our environment.
These site-specific, tailored nutritional programs also reduce the need for multiple applications, helping to reduce another carbon footprint of their customers. Harrell's products such as POLYON ® allow landscapers to make fewer applications per year, therefore reducing overall emissions into our atmosphere.
Harrell's is also displacing older chemistries and fertilizers with more environmentally-friendly alternatives; organic choices, products that limit run-off to protect waterways from contamination, and products that reduce the amount of water needed to keep landscape beds and lawns healthy.
Your conservation efforts are equally important, at work and home, inside and out. Even little changes can make a big impact.