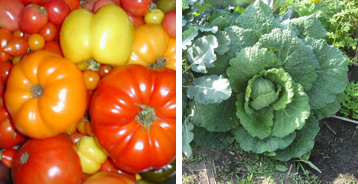 Grilled Salad & Farmers Markets
by Kathleen O'Keefe Kanavos
Summer and grilling go together like peanut and butter.
Delicious fresh foods grilled to perfection and served outdoors with loved ones are the beginning of treasured life-long memories. Freshness need not be synonymous with expensive at local Farmers Markets.
One of the things I look forward to during the summer on Cape Cod is the incredible fresh produce available at my local Farmers Market. Local fresh and dried fruits and fresh vegetables are unloaded from the back of family farm trucks, displayed under tents that shade them from the intense summer sun. Some venders accept credit cards but most prefer checks or cash.
Sometimes, shopping at the market to meet everyone's food requirements or restrictions can be tricky. For example, I love salads. However, some of my friends have health issues, such as diverticulitis or inflammatory bowel disease, which limit the consumption of raw vegetables.
My good friend Petronelle says in her strong British accent, that she can't eat "anything with pips." She describes pips as small seeds or nuts that can cause inflammation in the intestines. Digesting raw vegetables – even lettuce – can also present challenges that cooked veggies and salads can alleviate.
My recipe for Grilled Romaine Salad is one that everyone can enjoy. It can be made "pip" free, prepared ahead of time, stored in the refrigerator or served hot from the grill. If a grill is not available, the salad can be sautéed in a pan with the garlic.
It's quick, simple, healthy and delicious. It can be served as an accompaniment to meat or fish, or as a simple main dish with or without some locally baked bread, also available at your farmers market. Change it into a seasonal salad by adding grilled local fruit such as pears, apples or peaches. These can add color, flavor and pizzazz. The possibilities for this salad are endless.
Farmers Markets are in many cities on and around Cape Cod. Visit some of them on your next outing! Wondering where to find your closest market? The Buy Fresh Buy Local website has plenty of links to local farms and farmers markets.
Or check out this handy listing
Wondering what's fresh at the Cape Cod Farmers Markets right now? Check out this helpful chart