Barefoot, I sloshed through the saltwater wetlands looking for wildlife. The shy hermit crabs peeked from borrowed shells, and soldier crabs, dressed in their smart blue coats, entertained me for whole afternoons.
There sat far out in the flats a huge boulder to which I would walk and aspired to climb. It became approachable only during low tide, as high tide covered it completely. To my memory, the rock was gargantuan. It lay like a beached whale, solitary and immovable. I don't recall ever being able to climb it, though my brother did, and pretended to be King of the World. And maybe, in that enchanted place, he was.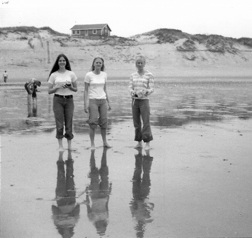 Lisa (far left) with her beachcombing cousins, 1975
The only available phone hung in a weathered booth near the dwarf-sized bridge that connected Lieutenant's Island to the rest of the world. Too narrow for more than one car to pass at a time, the bridge became impassable during high tide, and represented the door to the outside world.
My sister trekked to the phone booth once or twice during our island stays, though the phone rarely functioned. I never understood her need to communicate beyond our little paradise.
When I dream of Lieutenant's Island those concrete things take form: the gulls, the crabs, the rock, the bridge, the outhouse, the cottage. But there are other things, too—joy, peace, and a profound sense of being.
At 10-years-old I soaked up the sensation of belonging to something vast, and at the same time being nothing but a speck upon the sand.
For those moments I understood I was no different, no more special to the universe, than those crabs and birds and wetlands teeming with life. It is no lie to say that I saw God's face in the landscape, felt His breath with every sea breeze that kissed my skin. I embraced it, absorbed it, and will carry it with me always.