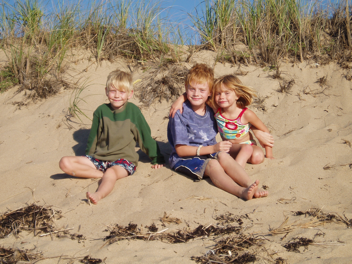 Race Point Snapshots
by Katie O'Sullivan
The year we bought a house on Cape Cod, many new family traditions were born, two of which involve the National Seashore.
The first new "tradition" is an annual outing to Race Point beach with Uncle Charlie, my husband's best friend who lives and works in Provincetown. We load up the minivan and head to the very tip of the National Seashore, where we spend the day on the outer reaches of the beach fishing, playing, watching seals and barbequing.
Charlie is co-owner of P-town Pedicab, those bicycle-drawn cabs you see riding up and down Provincetown's Commercial Street during the summer months. He's usually too busy at work to schedule any of his weekend time until early – or sometimes late – fall.
This works out fine, since there's less traffic on Route 6 and way fewer crowds along the beach. It does mean we need to pack sweatshirts and blankets along with our fishing gear, but September and October are still beautiful on the outer beaches.
So when it came time to plan my mother-in-law's big 70th birthday celebration, we knew September was a perfect time to be on the outer beaches. We decided to surprise her with a Provincetown Dune Tour and Clambake.
The extended family piled into three of Art's Dune Tour SUVs and headed out along Race Point. Not only did we all have a marvelous time, but we also took some beautiful family photos in the golden light of sunset.