As a direct result of her dedication to supporting and promoting her fellow female colleagues, PCCS continues to honor her vision through its Barbara Mayo Educational Endowment.
Another important female who played a critical role in the survival and evolution of PCCS was local Provincetown resident, Ruth Hiebert.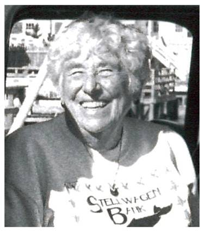 Ruth Hiebert, Courtsey of PCCS
During the nascent phase of the Center's history, there was no state-of-the-art marine science lab or administration headquarters, as there is today. Instead, the growing staff of scientists operated out of a modest waterfront house on the west end of town, conveniently located adjacent to the town boat ramp.
Ruth was ever present during those very lean years – promoting the Center throughout the town, volunteering at every event, generously stepping in with donations when the budget was tight and famously hosting board meetings and other PCCS events at her home.
She also took a special interest in assisting young women's advancement in the field of science, and her support continues today in the annual awarding of the Ruth Hiebert Women in Science scholarships.
As a result of Barbara's mission to enlist and promote more female colleagues, and Ruth's generous financial support, the Provincetown Center for Coastal Studies has been a "launching pad" for many women in science – advancing their careers, while at the same time, broadening the scope of the Center's affiliations around the world.
Dr. Jooke Robbins and Dr. Amy Costa, two prominent and talented scientists, are good examples of women who have grown and thrived professionally at PCCS. Both began their careers as interns who, under the tutelage and encouragement of PCCS senior scientists, went on to earn their PhDs, then returned to make invaluable contributions in their respective fields.
Today, Dr. Robbins is the Director of the Center's Humpback Whale Studies Program, including its three-decade study of the Gulf of Maine humpback whale population. She has extensive humpback whale photo-identification and biopsy experience and has conducted research in three oceans. She is also a member of the U.S. Delegation to the Scientific Committee of the International Whaling Commission.