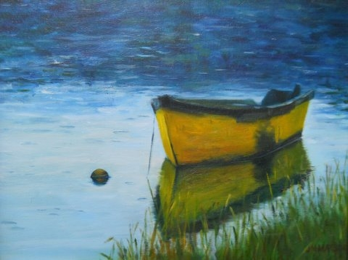 At Rest, 11x14 oil, by Jean Matson
Art Exhibit Seeks to "Give Back"
Northside Artists and the Cultural Center of Cape Cod Collect Supplies for Troops
By Katie O'Sullivan
The Cultural Center of Cape Cod in South Yarmouth is host to hundreds of exhibiting artists every year, but the Northside Artists of Cape Cod are the first to invite the public to make their exhibit a drop-off site for supplies for the troops.
The ten artists, who all live on the Cape's north side and exhibit together as the Northside Artists, will show their paintings in the Cultural Center's Board Room gallery from November 30-December 11 with an opening reception slated for December 2 from 5-7 p.m.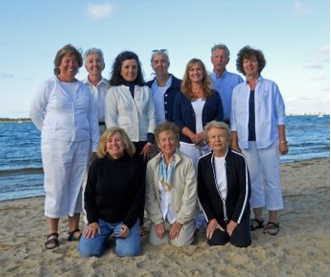 Northside Artists of Cape Cod: (top L to R) Pat Nickerson, Jean Matson, Maria Blanck, Deb Stidsen, Daune Baker, Drew Stidsen, and Rosanne Francesconi (bottom L to R) Cathie Renza, Ginny Audino and Jeanne Bridges
Although they've only been a formal "group" for the last year, the Northside Artists have been painting together for over ten years.
"The theme that binds us together," explains Rosanne Francesconi, "is our love of art, our mutual support and encouragement of one another, and our desires to continue learning and to continue to improve in our artistic endeavors."
She says the group has taken plein air painting trips together, as well as painting excursions to a variety of locations as day trips (or extended for several days) to Provincetown, Nantucket, Martha's Vineyard, Rockport, and Truro, just to name a few. The group also organizes field trips to museums and educational sessions, and has group photo shoots and critique sessions.
The ten artists maintain their own studios in addition to the group studio painting every week. They exhibit individually in several galleries across Cape Cod, and belong to many of the popular art organizations and associations across the Cape, in addition to the Northside Artist group.
Rosanne goes on to say, "Additionally, we are committed to giving back to the community and this is done in a variety of ways, our collection for our troops just one of the many ways."
During both the opening reception and for the length of the Cultural Center exhibition, the Northside Artists hope to collect materials sorely needed by American troops overseas.