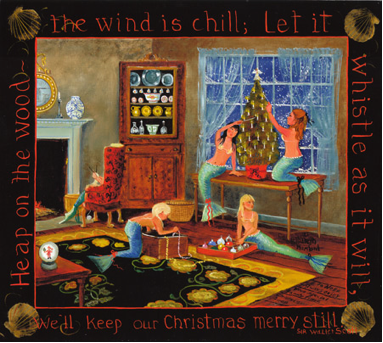 Welcome to the Holiday issue of CapeWomenOnline, the only magazine for the Women of Cape Cod.
In this issue you are introduced to the vibrant artwork of Marie Canaves, whose journey through loss led to her new perspective on her art.
As you focus on giving to others this Holiday season, we remind you to also give to yourself. Stop by our new Meditation Department, where Constance Wilkinson offers sanity-saving advice. Then relax into Kim Baker's Ekphrasis poem Celebrating Christmas.
Savor the humor of Yvonne DeSouza's, Christmas Surprises, Saralee Perel's I Married for Love, Sort Of and Pam's Glögg recipe.
Be inspired by Annabelle Hunton's career change which gave us the Platinum Pebble Boutique Inn. Meet Kathy Fogle, volunteer Trail Naturalist at the Wellfleet Bay Wildlife Sanctuary.
Our Community Action section lists Holiday Happenings around Cape Cod and casts a Spotlight on Events that support local charities.
A huge THANK YOU to our contributors! We look forward working with more amazing Cape Women in 2012.
Happy Holidays!
Nicola, Katie & Jane