BPW Celebrates 90 Years
by Patricia Monahan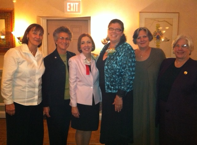 2011 Cranberry District Women of Achievement Awards Dinner
The Massachusetts chapter of the BPWMA is celebrating 90 years of advocating for women.
In 1919, during WWI, the Government recognized the valuable skills of working women and assisted in forming the National Federation of Business and Professional Women's Club to organize their resources.
That group is now known as Business and Professional Women's Foundation.
In 1920, women won the right to vote and the BPW has been working for fairness and equity in the workplace ever since.
The Massachusetts chapter was founded in 1921 and continues a long-standing tradition of assistance, compassion and empowerment for women as we celebrate our 90th anniversary.
While the state and local chapters focus to assist those within their regions, each region helps to unite the working women within the nation, and hopefully one day throughout the globe.
We have two chapters currently here on Cape Cod that make up the Cranberry District of the BPW/MA: BPW Upper Cape and BPW Lower Cape.