The Color of Love:
From Broken Heart to Beautiful Art
by Nicola Burnell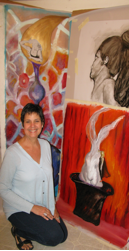 Marie Canaves in her home studio
Art is the manifestation of emotion, often inspired by the simplest of moments from daily life. But when an artist feels so moved to complete sixteen pieces, in a single year, the magic of transformation is guiding the work.
In her recent exhibit Endless Possibilities, held at the Studio on Slough Road, artist Marie Canaves pays homage to her long-time partner, Alicia Sanchez.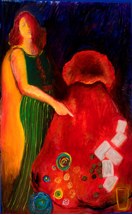 House of Cards, oil on vellum
The show's pieces depict bold and colorful interpretations of Alicia's life-long struggles with various areas in her life, ranging from poor health to the oppression of the Catholic church.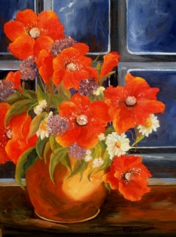 Poppies in Copper Vase by Rosanne Francesconi
Art Exhibit Seeks to
"Give Back"
Northside Artists and the Cultural Center of Cape Cod Collect Supplies for Troops
by Katie O'Sullivan
The Cultural Center of Cape Cod in South Yarmouth is host to hundreds of exhibiting artists every year, but the Northside Artists of Cape Cod are the first to invite the public to make their exhibit a drop-off site for supplies for the troops.
The ten artists, who all live on the Cape's north side and exhibit together as the Northside Artists, will show their paintings in the Cultural Center's Board Room gallery from November 30-December 11 with an opening reception slated for December 2 from 5-7 p.m.
Although they've only been a formal "group" for the last year, the Northside Artists have been painting together for over ten years.
"The theme that binds us together," explains Rosanne Francesconi, "is our love of art, our mutual support and encouragement of one another, and our desires to continue learning and to continue to improve in our artistic endeavors."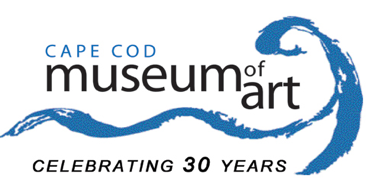 508-385-4477 www.ccmoa.org
Timeless: Explorations in Wax-Based Media
Mary Moquin & Marc Kundmann: Timeless: Explorations in Wax-Based Media will be on exhibition at the Cape Cod Museum of Art from November 19 through January 29, 2012.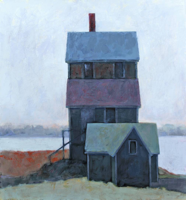 Presence, by Mary Moquin
Related events include an opening reception for Moquin and Kundmann on Saturday, November 19, from 5:30 to 7:30 pm, and a Gallery Talk by the artists on Sunday, December 11, 2 pm.
The reception is free; the Gallery Talk is free with paid museum admission, $8; free for members of CCMA.
Mary Moquin explores a sense of the prevailing unity found in the eternal rhythms of nature. She is drawn to the regenerative solitude of the timeless spaces she depicts.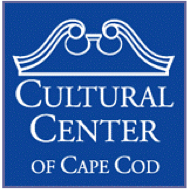 The Cultural Center of
Cape Cod
307 Old Main Street
in South Yarmouth
508 394 7100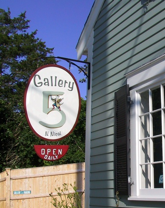 5 East Commercial Street
Wellfleet MA