Christmas Surprises
by Yvonne deSousa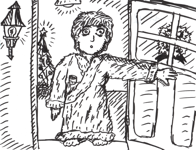 Oh, how Christmas is filled with surprises. Even as an adult, I never tire of the magic of the season and wonderful surprises always seem inevitable.
During December 2009, there were weird things going on in my body but I refused to accept them until after the precious holiday. I thought I would deal with my fatigue, spaciness and the numbness and tingling of my legs later, in 2010. But my doctors had other ideas.
That month I was shopping with a drunken-like gait, amid various appointments that included getting prodded with a fork, electrocuted by a gorgeous male doctor from Czechoslovakia, and undergoing MRIs.
I did okay with the first set of MRIs, but on the second set the evil technician locked my head in a vise and all I could think about was what would happen if the world ended and I survived in the metal tube only to have my head forever locked in place in this miserable tunnel… I tried to sing carols under my breath but that only made me worry whether the tech would forget me about during her holiday preparations.

Ekphrasis Holiday Poem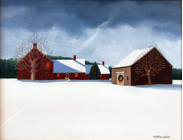 Celebrating Christmas, oil on panel
by Marieluise Hutchinson
Christmas Blessings
Poem by Kim Baker

I Married for Love, Sort Of
by Saralee Perel
One part I loathe about the holiday season is that it's usually a time of reflection. From age 5 until 8, I reflected on hating my parents because we were Jewish so I didn't get any Christmas presents.
From 9 to 15, I reflected on hating my parents because they wouldn't let me bring one lousy tree in the house. Hey! People have plant life indoors. So what if it has lights and tinsel on it?
At age 16, my reflections changed. I reflected on how rotten my parents were because it was Christmas, for heaven's sake. How about forking over a huge wad of dough so I could buy my own presents?
And Chanukah? You think lighting candles on a menorah was what I dreamed of? No. I dreamed of jewelry and boys. Well, I'd get one present. What all teenagers die for. A new dictionary.

Announcing a New Website for Cape Authors!
A Book in the Hand (ABITH) is pleased to announce a new website designed to keep local authors and readers up-to-date and connected.
The website features calendar listings for monthly ABITH events at the Jacob Sears Memorial Library in East Dennis, as well as special events presented by Shelf Space.
Website creator Elizabeth Moisan, who is the founder and director of ABITH, has also included an Author Directory on the site, which is open to all local authors of published prose.
Says Elizabeth, "The big dream is to have a list of every author on Cape, the name of their published books, plays, poetry collections, etc, library directors, book store owners, publishers and printers, locations of writing groups, anything literary, complete with contact info." "We need more literary events on the Cape," she adds, "and a thorough list of possible participants would be handy to have for featured players and core audience. Have you ever tried to find the local author of a book you enjoyed? Not that easy."
At the moment, the site will only list prose authors. To take part, visit www.abookinthehand.jimdo.com. Use the message form on the site's Contact page to send Elizabeth your name, your contact information, a list of up to 3 published books, and the genre of your books.
INDEPENDENT BOOKSTORES ON CAPE COD
Click here to find links to your favorite locally owned bookstores
C
W

O Bookshelf

Helping local readers support
local authors!

Click here to see Titles