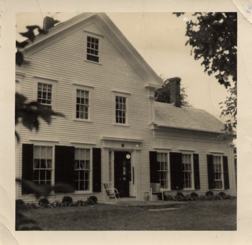 Atwood Farm's Secret Devil Cake
by Nancy Nicol
My Grandmother Gertrude French ran the kitchen at Atwood Farm. From the moment she set her foot on the linoleum that summer day in 1949, she took over.
She gathered the vegetables, she skinned the fish, and she canned jelly, pickles and relish. When we ran out of something she would make the call to Ellis' Market and the delivery boy would show up later that day, sometimes balancing the entire order in a carton on his bicycle handles.
Grandma had her own particular style and scheme and if a baking dish or a serving spoon were out of place, she knew it and we heard about it.
"Where is that pie pan, the one I use for deep dish, not that new glass one?" or "Who took my bread knife, I just had it in my hand."
This was important to her because our cooking equipment was simple and basic – one sauce pan; one double boiler, which could also be used as two sauce pans; one frying pan; one cast iron kettle; one tea kettle; a set of nesting bowls; a hand operated egg beater and a lobster pot.
Grandma always used a sterling silver fork for whipping heavy cream and was suspicious of the whisk someone brought as a present, refusing to give it a try.
She experimented with spices and herbs from the garden, made spicy sauce and gravy even though she may have secretly preferred food that was sweetened with a tablespoon of sugar, "to bring out the flavor."
At eighty-five years old she knew recipes by heart and thought using a cookbook was a form of cheating.
She was determined to teach me how to put ingredients together – "it's like mixing your paints", she said. "You know how to make purple, you don't have to consult a color wheel, do you?"