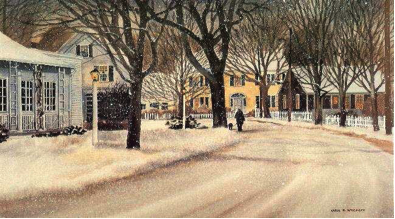 Published Courtesy of Karol Wyckoff
Holiday Happening Spotlight: Bass River Cookie Stroll
Let them eat Cookies!
The Bass River Holiday Cookie Stroll takes place December 10th, starting at 10:30 a.m. and continuing through 3:00 p.m., rain or shine. The Stroll includes ten locations within a two-mile stretch of the historic Bass River area. The locations include the South Yarmouth Library, the Cape Cod Cultural Center and eight private homes.
The "ticket" is actually a cookbook with the recipes of all cookies served on the stroll, and descriptions of the historic homes along the route. The cookbook comes with a hand-sewn drawstring bag in which to collect the various cookies, and sells for $15.
Children under 12 may accompany adults for free, but only ticket holders receive cookies. Free transportation will be available between the locations for those unable to walk the entire two miles.
Tickets are limited and may be purchased starting November 21 from The South Yarmouth Library, Bass River Shoe Repair, and Adrene Jewlers in the Hearth and Kettle Plaza. Credit Card Sales at (508) 760-4820 ext 1313.
The event is sponsored by the Trustees of the South Yarmouth Library, Friends of the Library and the Cultural Center of Cape Cod. All proceeds from ticket sales will benefit the South Yarmouth Library.
When? December 10, 10:30-3pm
Where? Bass River Historic District, Yarmouth
Why? To benefit the South Yarmouth Library
How much? $15 gets you the cookbook, tours of 10 historic sites… and the cookies!
For more details about The Bass River Holiday Cookie Stroll
Call 508 760 4820
http://www.cultural-center.org/ccevents.html