Did I mention that Soukie once forced a vet to wear shoulder-length Kevlar gloves so he could give her a rabies shot? He then politely requested that I find another vet. So I did. But even the fearless Joan Goffi had her challenges when it came to examining Soukie.
I'm sure you're wondering why anyone would put up with a mean, grumpy, potentially dangerous cat when there are so many gentle kitties looking for a home. I thought the same thing too.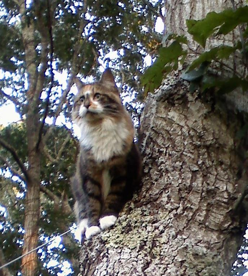 Perhaps that's why I decided to let her go outdoors. I felt a short happy life of exploring, hunting and sleeping under her favorite chair on the deck was preferable to a long, miserable life of endless yearnings to be free.
The night Soukie disappeared, my son slept on the couch with the back door open, hoping to hear that unmistakable thud of her paws landing on the deck. I slept like a baby, confident that she could, if necessary, face down a coyote.
When the rapturous howls of a coyote kill tore into my dreams I literally flew out of bed and ran into the street, flash light in hand, screaming for my cat. My sons were right behind me. It wasn't long before we all felt unnerved by the eerie silence, punctuated only by an occasional crack of twigs or hooting owls.
"She'll be fine," I reassured my sons. "She'll be home in the morning."
The grief hit me immediately. I couldn't understand why losing such an unfriendly cat would feel so hard to live with. It was my turn to tack up LOST CAT signs. I uploaded postings on Craigslist and put a notice in the newspaper. No response.
A week before I drove my son to Boston, to begin his first year at College, I adopted a nine-month-old cat from the MSPCA. I wasn't sure I was ready for another cat, but my younger son was instantly chosen by Travis, the feistiest, softest feline in the room.
Unlike Soukie, Travis IS a Feed me, Pet me, Love me cat. Having been a stray since birth he has no interest in going outdoors – he's been there, done that.